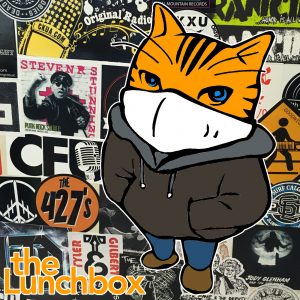 On today's show:
Spearhead Theatre continues it's "Sunday Service" series of streamed performances this Sunday at 2pm with Alice Gerstenberg's "Fourteen"
TNB launches Dear Rona, a story collection project


Dear Rona – Letters from Lockdown is a new collaborative project inspired by our current state of affairs. The idea is simple: send us a letter telling us about your experience living in lockdown.

All stories collected through this project will be used as a platform for inspiration to create a new original, multi-disciplinary performance piece. The collection process will continue until the fall at which time invited artists from various disciplines will work collaboratively to create a unique piece of art based on our collective experience as a community, a province and a country.Everyone is encouraged to take part and participation is easy! To contribute your voice to this project, simply get in touch and tell us how living in lockdown has changed your life. Maybe you've reconnected with friends and family or have rekindled your love of reading. Maybe you've taken up baking bread, knitting or listening to your music collection with a new focus. Maybe you've been inspired by the kindness you've seen or offended by ignorance. Or maybe this whole situation has you worried about the future. We're all experiencing this in unique ways. There are no wrong answers.

All contributions to this project will be accepted anonymously and excerpts from contributed stories will be shared through our social media channels as the project progresses. We want your story, not your name. However, all contributors will be acknowledged in the final format of this project.

To contribute your voice to this project, please send a letter, a postcard, an email or an audio recording to the addresses below. Submissions may be any length.

Mailing address: Theatre New Brunswick, 55 Whiting Road, Fredericton, NB, E3B 5Y5 
Email: dearrona [at] tnb [dot] nb [dot] ca

#CanadaPerforms

A partnership of the National Arts Council and Facebook to pay artists to perform at home.





https://nac-cna.ca/en/canadaperforms





#CanadaPerforms is a $700,000 short-term relief fund that pays professional Canadian artists and professionally published authors for their online performances. It was launched by Facebook Canada and the National Arts Centre to help ease the financial strain for Canadian artists impacted by the closure of performance venues across Canada related to COVID-19, and to lift the spirits of Canadians during the crisis. Artists who are selected will receive $1,000 and their online performance will be broadcast on the NAC's Facebook page.

April 9, 5pm: Alan Doyle (who was originally to appear at the Playhouse on April 11)

April 13, 4pm: Ben Caplan (who was here on February 25)

April 13, 8pm: Dennis Ellsworth

April 14, 6:30pm: The Town Heroes

April 15, 7pm: Rob Lutes

April 16, 3pm: Christina Martin

The Fredericton Playhouse continues to be closed during the rest of the month of April. All ticket holders for cancelled events will receive a full refund. The box office will be in touch with ticket holders regarding returns. Given the number of returns being processed, this could take a few days. We will continue to monitor the situation, taking direction from public health officials and will provide updates on any additional cancellations as they arise.For more information, or to check for updates, please visit https://www.theplayhouse.ca/
NotaBle Acts Seeks Entries for 19th Annual Province-Wide Playwriting Competition



The deadline for the main contest is April 23, 2020. The Middle and High and school contest closes on May 22, 2020.



See the website for details, rules and to submit.
Much thanks to the Fredericton Arts Alliance's ARTSnews, and the Facebook group Covid-19 New Brunswick Artist Resource Network
COVID-19 Updates:
The province announced three new cases of COVID-19 yesterday afternoon, bringing our total to 108. 39 people have since recovered from the virus.

Dr. Jennifer Russell said there would be no exceptions made to social distancing rules during the long weekend and Easter.

Premier Blaine Higgs says local police will make the rounds to ensure people are following the rules. If not, residents could be fined as much as $10,000.  

UNB Researchers say New Brunswick is on a best-case trajectory for COVID-19, similar to that of South Korea. 

National COVID-19 numbers reached 19,289 last night, according to the Government of Canada. 

Stats Canada said the nation lost one million jobs last month due to the virus, bringing the unemployment rate to 7.8 per cent. In New Brunswick, that number equals 8.8 per cent. 

Canadians who lost their jobs due to COVID-19 can start applying for the Canadian Emergency Response Benefit (CERB) this week. 

The kids are all right: New Zealand Prime Minister Jacinda Ardern and Ontario Premier Doug Ford announced the Easter Bunny and Tooth Fairy are essential workers during COVID-19.
Interview: Keith Lyons ("Oh No! It's Thursday!")
Interview: Inland Island

Podcast: Play in new window | Download
Subscribe: Android | Google Podcasts | RSS