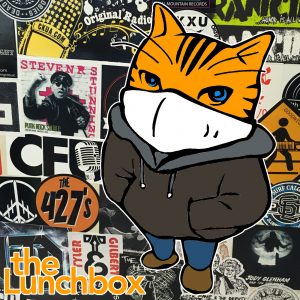 On today's show:
Today is Firefly day! Indulge in a re-watch! Or, if you've never seen it, now's a great time.
It's also Teach Your Children To Save Day. The future adult will thank you.
In Response to the Nova Scotia Tragedy


To commemorate the victims of the terrible incident in Nova Scotia, we are joining with radio station and churches across the country in ringing 22 bells for the 22 victims. We will return for an hour to our regular programming, and then will be simulcasting the vigil at approximately 7:01pm tonight. Please join us in gathering virtually to honour those who have passed.

Stronger Together / Tous Ensemble benefit concert simulcast!
Be sure to join us and numerous media outlets for a simultaneous, cross-country event! This Sunday, 6:30pm. 

For more information, visit

strongertogethercanada.ca

, and to donate text COVID to 30333 to donate $5, $10 or $20 or visit

FoodBanksCanada.ca/StrongerTogether

ANIMARITIMES 2020 postponed to 2021 (originally, June 26-28, 2020)


"It is with great disappointment that we must announce the postponement of Animaritime 2020: Magical Girls until 2021. This announcement was difficult to make but the decision was made with your safety in mind. Though we hoped that it would not have to happen; the safety of our attendees, our staff, and everyone involved in making Animaritime must come first. 





You probably have a lot of questions, and we do as well as we are still sorting out what all this means, but being transparent is also really important."

New Brunswick fairs and exhibitions suspended for 2020
The New Brunswick Fairs and Exhibitions Association has announced that all events scheduled for 2020 are suspended because of the situation surrounding COVID-19.Mike Vokey, President of the association: "The decision to pause was difficult but essential to protect the health and safety of our producers, our volunteers and the public. All the fairs across the province agreed that we need to do our part in limiting the spread of this virus."

Includes: the NBEX, Stanley Fair

Annual Spring Yard Cleanup Program Dates Announced


The City of Fredericton's annual "Spring Yard Cleanup" program happening during the weeks of

April 27 to May 1

and

May 11 to May 15

. 




The program is not for pickup of items such as furniture, stoves, refrigerators, bedsprings and mattresses, or residue from major tree removal or significant clearing operations.





If in doubt about what can be collected, or for more information, visit

www.fredericton.ca/springcleanup

or contact Service Fredericton at 506-460-2020 or

service [at] fredericton [dot] ca

before placing material at the curb.

UNB nursing grads join the COVID-19 fight


Fourth-year nursing students from the University of New Brunswick graduated earlier than usual this year to allow them to join the fight against COVID-19.



Restaurants and local shops are not doing so well right now.

There is a serious risk that many of these local, independent shops and food sellers might not be able to survive the extended period of slowdown that we need to endure right now. So, I encourage you to find out if your favourite restaurant has delivery available and order at least one meal once a week, if you can afford it. If they don't have delivery, see if they have a gift card. Similarly, some of the local shops might now deliver, and they could use your business.  Finally, if you can't afford to support them financially directly, why not let your friends know why you love the stores and restaurants so much, on social media.

Tourism Fredericton

has a great page listing local businesses that you can order from and support right now

Living Rooms Concert Series, April 26
Each Sunday will have 10 acts performing 30-45 min each 4 PM- 9 PM.
You can stream this from the @roots & soul music promotions,

The East

,

The Capital Complex

,

Grimross Brewing Co.

Facebook pages.

Interview: Mark Kleyn, Performance Anxiety for Musicians
Interview: Real Life Survivor Louis Stravato
COVID-19 update:
The province announced no new cases of COVID-19 yesterday afternoon, leaving the total number of cases at 118. 

104 people have recovered from the virus, leaving 14 active cases. 

Premier Higgs announced the government will begin discussing recovery measures about reopening the province's business sectors.  

City of Fredericton will charge for parking again starting on Monday, April 27. 

The RCMP is asking Canadians from coast to coast to wear red on Friday, April 24, to honour the lives lost in Nova Scotia over the past weekend. A memorial service will air at 7 p.m. on all CBC platforms and CHSR.

Trudeau will invest another $1.1 billion to COVID-19 research.

Podcast: Play in new window | Download
Subscribe: Android | Google Podcasts | RSS