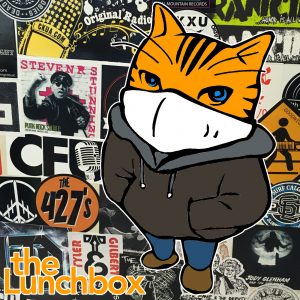 On today's show:
While it's clearly for a warmer climate, I think the fact that it's Pick Strawberries Day should still be used a ringing bell to get us eager to head out to the fields and grab some of the sweet local fruit for ourselves. Our local farms are going to be more important than ever this year, and it's up to us to support them.
It's also really important to figure out how we can support our arguably most important insect: World Bee Day!
Take a moment to figure out just how many kilograms a pound is (2.2), how many feet to the metre (approximately 3.3, or 39 inches, or 3 inches more than a yard), and how many litres in a gallon (a little more than 3 3/4 litres in a gallon) for Weights & Measures Day.
And take one last moment to plot out what you'd do with a cool stack of cash for Be A Millionaire Day.
Tomorrow, be sure consider all the people who make the restaurants work, but especially the kitchen-to-table people: it will be Waitstaff Day. It will also be a great chance to take a look around and consider how people with difficulties can make their way in your environment for Global Accessibility Awareness Day.
On this day in 1816, the first steamboat in New Brunswick, the "General Smyth" launched to head up the river from Saint John to Fredericton, staying over at Maugerville before arriving in the city the next day. What a sight that would have been!
Welcome Back Robbie!
The Robert Burns statue has been remounted in the newly created Beaverbrook Art Gallery sculpture garden. Why not take a wander down there today and take a look?
Reminder: Digital Tertulia tonight at 7pm: Kerri Froc on "Henry Morgentaler"


Kerri Froc is an Assistant Professor of Law at the University of New Brunswick. Formerly a lawyer with Women's Legal Education and Action Fund (LEAF) in Regina, Kerri does research on women's constitutional rights, access to justice, and feminist legal theory.

Henry Morgentaler was a Canadian physician who waged numerous legal battles aimed at expanding abortion access in Canada.
Bondo Picked Hey Major with the song Brother
I picked Town Heroes' song Feel It Too
From 2015, I revisit a fun interview where I'm joined by Tim Rayne to talk to Sour Snatch Kid of the Capital City Rollers.
COVID-19 Update:
Public Health reported no new cases of COVID-19 on Tuesday, leaving New Brunswick's total number of cases to 120 and no active cases. 

School is back in session for teachers across the province starting on June 1. Dominic Cardy said the province is confident districts can safely allow teachers back into schools to finish the year.

The City of Fredericton is launching "Fredericton Al Fresco" to support local restaurants and food trucks affected by COVID-19. 

On June 1, landlords will be able to evict tenants for non-payment of rent after this section of the province's state of emergency expires on May 31. 

Prime Minister Trudeau announced Tuesday the Canada—U.S. border will start closed for another 30 days and Ottawa is expanding the eligibility for the Canada Emergency Business Account.

Podcast: Play in new window | Download
Subscribe: Google Podcasts | RSS