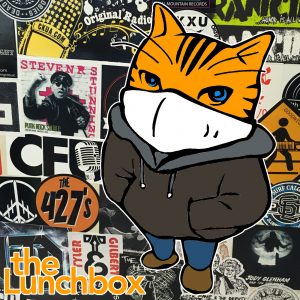 On the show:
I didn't get the chance to say it on the show, but shouldn't every day be Say Something Nice Day?
I picked an interview I did with Lesandra Dodson of Solo Chicken Productions from back in 2019. She is leaving the company, so I wanted to share with you our talk on The Despot.
And speaking of art! I picked the interview with James Wilson from 2014 on his exhibit Redeemed, all about the restoration production of the Fred Ross mural at UNB.
News:
New Brunswick Public Health reported three new cases of COVID-19 in Campbellton yesterday.

Dr. Jennifer Russell said the new cases are in their 80s and are linked to Manoir de la Vallee long term care home.

After a search lasting almost two weeks, RCMP arrested 47-year-old Marc Pellerin of Notre-Dame, N.B. 

The province is reopening its libraries this Tuesday. It includes the Fredericton Public Library with its branches downtown and in Nashwaaksis. 

The province has started its heat event surveillance program. If it is deemed necessary, the government will issue alerts to inform residents when a heat event is coming.

High school graduation is going to look a little different this year. With COVID-19 putting a halt on traditional celebrations, Fredericton High School will stretch its commencement over several days.

Starting today, Dunns Crossing Road at Boyne Court will be reduced to one lane between 7 a.m. to 7 p.m. 

Starting today, crews will finish the final construction phase on the Bill Thorpe Walking Bridge. 

As of yesterday, the province was still split on its outdoor fire ban. Here in Fredericton, burning is only permitted between 8 p.m. and 8 a.m. 

And the Sussex Drive-In had its busiest night of the season so far. Less than 200 vehicles stopped by for a double feature this past weekend.

Podcast: Play in new window | Download
Subscribe: Android | Google Podcasts | RSS