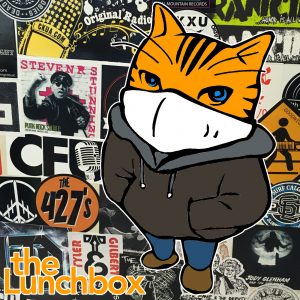 On today's show:
The heat makes it perfect to celebrate Sauntering Day and act like a role model of relaxation with Garfield the Cat Day. It also happens to be Take Back The Lunch Break Day and Martini Day, so at least some of you might combine those celebrations, too..
But most importantly, it's Juneteenth. In the United States, this day commemorates the end of slavery, not just in principal, but in the public declarations that swept across Texas and the rest of the states and provided real action and change. The celebration has grown over the years, and this year, might be more important than ever before. While I'm not that familiar with it, and it is primarily an American celebration, it feels important to take a moment to celebrate, reflect and consider how racism has affected our society, and how we can work to eliminate it.
FOOD MARKET AT THE EX SET TO OPEN JUNE 26


After the sudden closure of the Northside Market, several food vendors were left scrambling for a new place to set up shop.





It looks like the newest place is going to be at the Ex! The Capital Exhibition Grounds, with a wave of closures of events caused by the COVID-19 pandemic, has worked to create a brand-new grab-and-go food market in it's parking lot. 10 buildings are in place, going through the process of inspection, and will house food vendors starting on June 26th, barring any unexpected problems. Currently scheduled to be available is food from: Tan Bueno (Mexican), Cook Wi A Cook (Jamaican), Zensations (vegetarian), Dan's Sausages, J's Asian Kitchen, Street Greek, Country Fried, Syrian Delights, The Korean Kitchen and Big John's Spiral Potatoes. The market will plan to run on Fridays from 11am to 7pm, Saturdays from 9am to 4pm, and on Sundays from 10am to 4pm. They also promise to have a very environmentally friendly market, with no single-use plastics and recyclable containers.

The latest Revelation from the UNB Art Centre opens on Friday at 5pm: Dark Knight, featuring works by Burton Glendenning, Chris Giles, Julie MacIntyre, Alex Colvile, Roger Smith (interview on website) and Catherine Hale; and Memento Mori featuring the works of Cliff Turner, Jessie Babin, Cathy Ross, Susan Patterson, Karen Ruet, and Peter Powning.
The Tipsy Muse welcomes you back for live, in-person music with their Mellow Yellow Concert Series. These shows will come with the necessary precautions in order to maintain social distancing, including: a limit of 25 people; no tables; patrons will order with text from their seats; customers will buy tickets in bubbles of 2 to 4. For all shows, doors will open by 6pm, and the shows kick off sharp at 7pm. First show is scheduled for Friday, June 19 with Colin Fowlie, and then on Saturday, June 20 with The Tortoise, The Hare and the Millionaire.
We're a far distance from being able to enjoy all our performances in person, and some of the digital offerings allow us to connect with musicians from all over. This week's Living Rooms Concert Series continues on Sunday, starting at 5:30pm with Ian MacDonald, followed by 

Beige Shelter, 

C A Jackson

 and

 

Lynne Hanson.

 Join the stream on the Roots & Soul Music Promotions Facebook page, or with The East, The Cap, or Grimross Brewing Company. See the Facebook event for more details.
News:
New Brunswick Public Health reported no new cases of COVID-19 yesterday afternoon.

After a tennis match debate in the legislature, provincial leaders voted against bill 11 yesterday afternoon.

Two men are dead after a single-vehicle crash in Quispamsis on Wednesday night.

A man from Dieppe has been arrested after police seized over 100,000 illegal cigarettes on Wednesday.

RCMP in Hampton have their suspicions about a structure fire at a camp in Bay View. 

Residents looking to beat the heat at the Mactaquac Beach today are out of luck — the province has issued a no swim advisory at the famous spot.

St. Thomas University announced further information about the upcoming fall semester during a town hall yesterday afternoon.

And a commencement speech that is sure to bring some nostalgia to the Class of 2020 is going viral on TikTok.

Podcast: Play in new window | Download
Subscribe: Google Podcasts | RSS