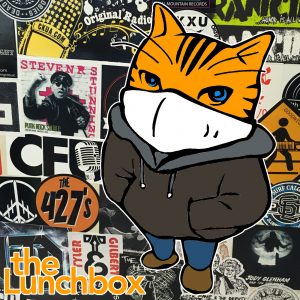 On today's show:
It's International Kissing Day, which has got to be one of the best ways to make it through a Monday! Unless you are not seeing anyone, and then it's just all those annoying PDAs..
Take your mind off your troubles and eat some food that's probably not the best for you on Fried Chicken Day. Unless you're vegetarian, of course.
We are all starting to appreciate all the people who work online, so the fact that it's both Virtually Hug a Virtual Assistant Day and Take Your Webmaster To Lunch Day seems suddenly more appropriate than ever. But aren't most of us virtual assistants now?
And finally, it's Umbrella Cover Day. I'm sure this will ignite a thousand debates about the usefulness of a pouch for your umbrella (to protect it against what, exactly?), but at least that seems like a less politically-charged conversation than most we're having this days… Although it does involve the weather, peripherally..
Both the Fredericton Arts Alliance and The City of Fredericton are starting their artists-in-residence programs for this summer this week, although the FAA one is entirely virtual, and the city's program is a mix of virtual and in-person. I'll see who I can get a chance to talk to this summer!
The Charlotte Street Arts Centre is going to host Peter Hansen this week for a LIVE & IN PERSON event. They've taken considerable precautions to make sure its a safe event, so check it out! Doors open at 7pm, show goes until 9pm, and tickets are $15 at the door. 

See the Facebook event for more details.

We could all use a good laugh these days, and The Cap is inviting you to join them for a few. They originally booked a Comedy Night on July 15, but that event SOLD OUT quickly. They have now added Comedy Night 2 on July 16, where you'll be able to headliner Jimmy MacKinley and locals Paul Lewis, Anthony Bryan, Maggie Estey. The nights will be hosted by Matt Richardson. Tickets (still available!) for the second night are at https://bit.ly/CapComedy2 . Please note: tickets are sold per table, and you will be seated & served as per our return to live event protocols.
This weekend, TNB Presents a Heist Pride Takeover on Zoom! DJ! Drag Performances! Dancing! Lip Sync Roulette! Costumes! Prizes! Join us for a Takeover Party in a Zoom room and find some Queer community within your distancing! Starts on Sunday at 7pm. See the Facebook event for more details.
Today, I looked back to the summer of 2016, when I learned a thing or six from Rachel Watters about watercolour painting. Also, before I got to see a surprising and moving modern play called Bone Cage in 2018, I sat down with TUNB's Len Falkenstein, Alex Pannier and Devin Rockwall.
News today:
Over the weekend, New Brunswick reported no new cases of COVID-19 for its 12th day in a row.

With lower than usual rainfall and higher temperatures still to come, New Brunswickers are being encouraged to conserve water.

A St. Stephen man faces attempted murder charges after assaulting an older man on Canada Day.

A Canadian Forces Reserves member from Manitoba faces 22 criminal charges after breaching the gate at Rideau Hall in Ottawa.

Saint John Mayor Don Darling hopes to make racism a punishable offence when he raises a motion to city council tonight.

CN Rail announced it would invest 20 million dollars in the province over the next year to refurbish its local infrastructure.

And American rapper Kanye West announced he will run in this year's presidential election against Joe Biden and Donald Trump.

Podcast: Play in new window | Download
Subscribe: Google Podcasts | RSS