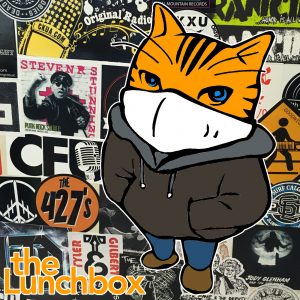 On today's show:
Beware! They can lurk anywhere… It's Shark Awareness Day. (Ok, let's just admit it's an excuse to binge stuff on Shark Week on TV…)
Does it feel like the world is crazy? Well, it's Pandemonium Day, so for at least one day, that's fine. Just fine. Totally fine.
Today is Mac & Cheese Day… Didn't we just have that?
It's also Grand Marnier Day, so there will be many people who decide that "orange" is an acceptable breath flavour.
Long Distance Telephoning began between Fredericton and Saint John on this day in 1888. They used to have to connect individual cities.
Along with getting two chances to laugh this week (with the two nights of The Cap Comedy Night headlined by Jimmy MacKinley and featuring local comics, and the Delta Drive-In celebrating Christmas in July: "National Lampoon's Christmas Vacation" on July 17 and July 18), you'll also get more chances to hear live music, with Shameless at Dolan's Pub (Thursday, Friday, Saturday night) and Tortoise, The Hare, and the Millionaire at The Tipsy Muse Café on Friday.
Today, we revisit 2016 with interviews with Heather Rankin on the occasion of her release of A Fine Line, and Anna Mathis, a fabric artist who was in residence that year.
News update:
Yesterday marked four days in a row since the last time New Brunswick Public Health reported a new case of COVID-19.

The University of New Brunswick came under fire after a student at its Saint John campus was overcharged for tuition.

The provincial government is making amendments to its essential worker wage top-ups, which will see more workers getting support.

Sussex RCMP is asking for the public's help in locating a missing teenager.

The death of a man from Saint John is now being deemed as a homicide, according to the New Brunswick RCMP Major Crimes Unit.

A public art installation to celebrate the Saint John/Wolastoq river will grace the roundabout at Victoria Circle next summer.

After a council meeting last night, the City of Fredericton is considering the removal of a dam at Campbell Creek in Marysville.

And in entertainment news, police in Southern California have recovered the body of 33-year-old actress Naya Rivera.

Podcast: Play in new window | Download
Subscribe: Android | Google Podcasts | RSS