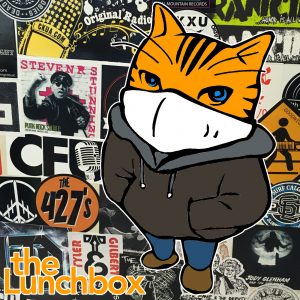 On the show:
It was a confluence of important moments on Thursday, with Get Smart About Credit Day, World Students' Day and the International Day of Rural Women.
It was also Willee O'Ree Day! 

Considered the "Jackie Robinson of Hockey", in 1958 O'Ree became the first Black man to play in the National Hockey League.

I went back to 2017 with my conversation with Jillian and Alex about Theatre UNB's presentation of Criminals In Love, because I'm really missing regular theatre right now.
And I also went back to this summer and my conversation with Riel Nason about their experience writing in the Botanic Gardens as an artist-in-residence.
And as we head into the wild and wooly weather season, we return to another Positive Song For Pandemics from Lainie B of Monday night's B Street. This time, Frank Turner's The Next Storm.
The Silver Wave Film Festival is virtual this year! From November 5 through 11 you'll get a chance to indulge in a plethora of local films from the comfort of your own chair. See the website for more details.
Solo Chicken Productions is hosting a series of online workshops for theatre performers and other performing artists called GROUNDWORKS from October 16 through 18.
Theatre New Brunswick is hosting a series of online Festival of New Plays from October 15 through November 26. To see the full schedule of events and a list of participating playwrights, visit the festival website. All events are completely free of charge. Donations welcome. In the immediate future, Wildly Romantic by Norm Foster was presented on October 15 at 7:30pm, and Blue Birds by Vern Thiessen is coming up on October 18 at 2pm.
This weekend, you can get a little spooked by heading to the Sleepy Hollow Haunted trail in Keswick. Full COVID-safe protocols will be observed, including masks, social distancing and small groups. This is a HIGH SCARE event, so no little ones. Tours will be on schedule at the appointed time; this year appointment times are given from 7pm to 10pm. Walk-ins are welcome after 10pm; this event will not close until everyone has gone through. Book now by messaging or call 440-5431. See the Facebook event for more details.
You may have missed the Rock'n'Roll Music Bingo and Grimross Trivia on Thursday night, but you have the chance to laugh on Friday night at 7pm at the Charlotte Street Arts Centre with Jimmy MacKinley & Paul Lewis.
News update:
New Brunswick Public Health reported eight new cases of COVID-19 yesterday afternoon.

In the Matthew Vincent Raymond trial, jurors have learned content on the defendant's computer took a darker turn than was usual.

The provincial government ended the 2019 fiscal year with a bigger surplus than expected.

Drivers will have to shell out more cash to fill their gas tanks this week.

The Town of Oromocto has officially activated its first municipal-owned electric vehicle fast-charging station.

The New Brunswick RCMP has seized just over three and a half kilograms of what's believed to be heroin in Southeast new Brunswick.

New Brunswickers will head back to the polls in May next year for previously delayed municipal elections.

And WestJet announced yesterday it will suspect operations at four Atlantic airports by early November.

Podcast: Play in new window | Download
Subscribe: Google Podcasts | RSS