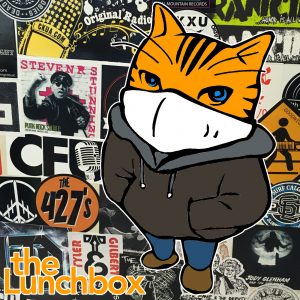 On today's show:
Like it or hate it, and despite the fact that it wasn't first, it's undeniable that iPod Day marks a time of change in modern media consumption.
Pour one out (and then think about next year's parties) for Event Organizers Day.
And fry one up for Bologna Day. (Somebody explain why it's pronounced "baloney"?)
We remember that in 1918, Canada had hit a peak for the Spanish Flu, with 55,000 people dead from that previous pandemic.
This is the last Sunday to see the show called Attending The Apocalypse at the UNB Arts Centre with two exhibitions: Jennifer Lee Weibe's Scratchcards for the Apocalypse exploring language and our understanding of content in a series of canvases painted with tweets made by Donald Trump since 2015; and Janice Wright Cheney explores the symbolic power of mushrooms and the potential for mycelia to reshape our society. To book your time to see it, visit the UNB Art Centre site.
To give you an idea of Jennifer Lee Weibe's art, I pulled out my 2018 interview with her about her then project, Abstract 1-12.
And we revisit my chat with Cat Candow from this summer's Artist-in-Residence series.
I'm thrilled that some of the thrills of the season are still around!

APEGNB's Haunted Tour #2020 edition is a go! From October 26 through 31, 6pm to 11pm each night, get your Halloween experience! 

Of course, the APEGNB haunted Tour will look a little different this year – but it will still have wicked frights, terrifying animatronics, creepy basement (as per usual), and an amazing lightshow like you've never seen before!! There will be no auditorium holding zone, tickets will be sold in bubbles, and patrons will be asked to arrive at A VERY SPECIFIC time. 🙂 

Tickets are for bubble groups only. You will get your time for your ticket, and you must be there on time. COVID precautions will be in full effect, including masks and hand sanitizer.  

See the Eventbrite link for more information or for tickets.

The Haunted Hike has returned, for a limited time: from October 22 to 24 and from 29 to 31, 7pm each night. Gather at the Beaverbrook Art Gallery Amphitheatre for the tour. See the Calithumpians Facebook page for more details.

If you are in the mood to hear all the words this weekend, it's quite a feast:
Lots of music events this weekend:
News updates:
New Brunswick health officials reported three new cases of COVID-19 yesterday afternoon.

Jurors in the Matthew Vincent Raymond trial heard the defendant demanded to be released during legal meetings in 2019.

Fredericton police say a 28-year-old man has been arrested after he barricaded himself in a residence in the Montgomery Street/College Hill area Thursday.

The Atlantic Collegiate Athletics Association says it will make a decision in mid-November on varsity winter sport competitions.

The Maritime Hockey League (MHL) has announced it will go ahead with a 40-game schedule for the 2020-21 season.

Procurement Minister Anita Anand says the first shipment of rapid tests for COVID-19 has arrived in Canada but their eventual destinations remain a mystery.

And Canada Post is urging Canadians to shop early this holiday season to avoid the late arrival of gifts caused by a pandemic-induced shift to online shopping.

Podcast: Play in new window | Download
Subscribe: Google Podcasts | RSS