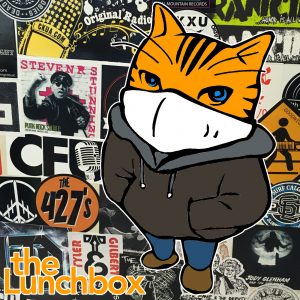 On today's show:
Celebrate Black Cat Day! They are beautiful, enigmatic critters that love scritches. Be kind and understanding, not suspicious.
And be nice in general! If you're not maybe you're the one your colleagues are complaining about! It's Cranky Co-Workers Day, so they'll be watching with chagrin.
If you've got a pile of photographs lying around, today might be a good time to figure out how you should really organize them. It's the World Day for Audiovisual Heritage, so figure out how to capture the voices in your life, the pictures of your favourite moments, and label everything for the anthropologists and descendants of the future.
CONGRATULATIONS TO CHSR'S OWN ERIN BOND! Erin was recognized at Prix MusicNB Awards as the HARDEST WORKING PERSON OF THE YEAR for 2020! The ongoing celebration continues with Bondo's Pick of Jessica Rhaye and the Ramshackle Parade's cover of Bob Dylan's One More Cup Of Coffee. I had an extra cup, just for that reason.)
We continue to look back at this fall's Word Feast, with Jo-Anne Elder, chair of the festival, talking about Word Feast's Video Poetry Bash.
Today's extra music comes from other recent big winners at the Prix MusicNB Awards, Les Hay Babies. Here's their 2012 recorded-on-location version of Tumbleweed.
Halloween is being supported each night this week from 6pm to 11pm with the annual APEGNB Haunted Tour #2020 edition at the Charlotte Street Arts Centre. It's operating under COVID-protection rules (wear a mask, hand-sanitize at the door, don't come if you're sick/have been sick/have been exposed) as well as travelling through in bubbles of four people. You'll need to buy your ticket ahead of time and be on time!
It's a theatre week!

Missed "Know Brunswick?" last week? No worries! It's happening at Maxwell's at The Crowne Plaza Fredericton-Lord Beaverbrook at 5:30pm on this Wednesday and next Wednesday. A blend of stand-up comedy, trivia, improv, and maybe a little serious scripted drama thrown in?! See the EventBrite event for more details and to get tickets.
The 2nd Annual Plain Site Theatre Festival is online this year from Wednesday, October 28 through October 31. This theatre festival aims to foster LGBTQ2+ talent and visibility. This years lineup of digital plays includes, readings, performances and workshops includes three new plays for this year, two plays adapted from last year, and two special productions.  See the Facebook event for more details.
TNB's Fall Festival of New Plays continues this week on Thursday, October 29 at 7:30pm with Caroline Coon's It Happened at a Party. It Happened at A Party focuses on the grey areas of sexual assault. Relationships and situations are complicated and are never as black and white as society makes them out to be. We begin with three young adults named Lexi, Ryan and Tyler as they drink and get ready to go out to a party. After much prodding, they convince their friend Camille to join them for a night of fun. Recently, she has been distant from the group after coping with tragedy but agrees to join them. The night goes on and Camille ends up in an uncomfortable situation. As she faces doubt from her friends and denial from her attacker, we are faced with the unfair experiences of sexual assault victims today. This play is intended to open difficult conversations and pave the way for a new reality. See the TNB page for full details. The Festival continues until November 25.

If you love taking beautiful photographs, you should join Photo Fredericton for their monthly meeting this Tuesday night at 7pm online. For more details, visit photofredericton.ca.
Music this week:

Matchstick Mike will be on-stage live on Friday at 7pm at The Tipsy Muse Café
Kylie Fox will play on stage at The Charlotte Street Arts Centre on Friday at 7pm, along with Jerry-Faye & Dylan
The Persuaders are at Dolan's Pub on Friday and Saturday nights at 9pm
News updates:
New Brunswick Public Health reported three new cases of COVID-19 yesterday afternoon.

The mother of Matthew Vincent Raymond took the stand yesterday where jurors learned she tried to convince him to see a doctor.

Police say missing 55-year-old writer Richard Vaughan has been found dead.

Yesterday marked the start of firearm deer hunting season in New Brunswick.

The New Brunswick Youth Orchestra is launching a new season with a series of five virtual concerts.

The Cox & Palmer Atlantic Canadian Craft Brew Fest may look a tad different this year due to COVID-19 but it's still on the go.

And Canada's federal health minister has received backlash on social media after not wearing a mask in public.

Podcast: Play in new window | Download
Subscribe: Google Podcasts | RSS