The more know about history, the more we can put our current world in the context needed to understand it, and to move forward together.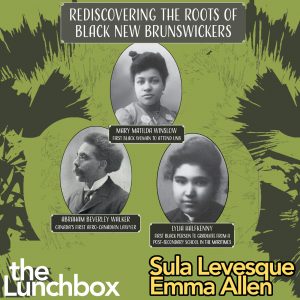 Under a plan devised by Sula and the UNB Equity team to uncover and celebrate black history in New Brunswick, Emma has engaged heavily in the research, collation, design and writing for a series of posters promoting several members of the historical and present New Brunswick black community. They join me to talk about the development of this historical exploration of an underrepresented element of local history.
There is an opening of an ongoing exhibition of the posters on February 21 at 5pm at Memorial Hall, UNB Fredericton campus. The opening will also feature poetry and other talks about the exhibit. For a full description of the event, view the UNB event page. The exhibit will be on display until March 27.

Podcast: Play in new window | Download
Subscribe: Android | Google Podcasts | RSS