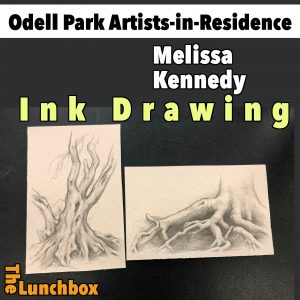 The shapes of nature are full of human expression, and when you can focus on those alone, magic happens.
During the summer, the city of Fredericton is hosting numerous artists and crafters each week at the Odell Park Lodge, to practice their art for all to see. These artists come from a wide variety of disciplines, from painting and sculpture to basket-weaving and writing. From time to time, we'll check in with these artists on the Lunchbox to find out what makes their art move them.
My guest today is Melissa Kennedy, an ink artist who is exploring the intricate and surprisingly human elements of the Odell Park forest. She joined me on the porch of Odell Park Lodge to talk about her pursuit of art.

Podcast: Play in new window | Download
Subscribe: Android | Google Podcasts | RSS