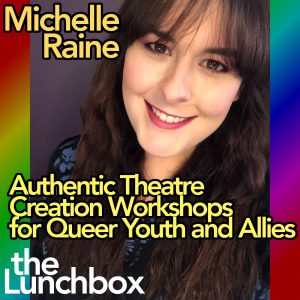 The virtues of finding media which reflects and represents your own personal experience are often mentioned — but imagine the power of creating that media itself.
My guest today is Michelle Raine, an artist and gender consultant and self-described "creative junkie". Michelle is hosting a series of workshops over the March break entitled "Authentic Theatre Creation for Queer Youth and Allies". We talk about the power of theatre and art for self-expression and self-discovery, and the space that they create to make possibilities.
The workshops cover multiple sessions aimed at youth and adults over the March Break. Space is limited, so be sure to sign up sooner rather than later.

Podcast: Play in new window | Download
Subscribe: Android | Google Podcasts | RSS