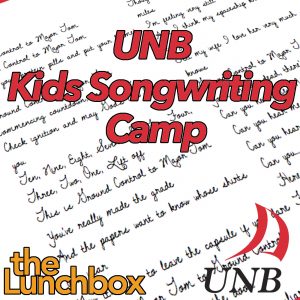 Every generation is filled with stories, filled with their experiences — whether lived, loved, feared or witnessed.
My guests today are half of this year's UNB Kids Songwriter's Camp. These young creatives have spent the week combining their talents to write lyrics, create chords and learn to work together to perform entirely new songs. This year, they are led in part by alternative musician and lyricist Charles Harding, aka Property//.
The kids will be performing their songs at Marshall d'Avray Hall on July 28 at 10am-noon.
Property// will be performing with DenMother and JoJo Worthington on July 30 at 7:30pm at Grimross Brewing Company.

Podcast: Play in new window | Download
Subscribe: Android | Google Podcasts | RSS