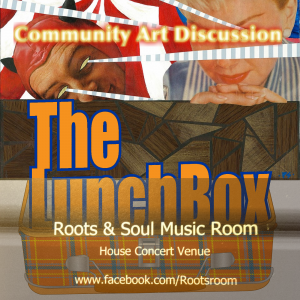 Where is the art in your community?
Well, it might just be in your community!
My guests today represent the integration between these things, the idea that art is not separate from community, but rather thrives within it. Eddie Young operates the Roots & Soul Music Room venue out of his living room. He's crowdfunding to buy a permanent set of amps and other necessary equipment so that he can host more bands and do it better. Brydon Crane is a member of the Shifty Bits Cult, a group of musicians and artists who are seeking to create more integration. They're holding an open meeting tonight called the Community Arts Gathering, in which they hope to talk with you about ways the arts community can work together even more.
Music today:
Amelia Curran declares that I Am The Night (from They Promised You Mercy);
We get a chance to Break Away with Silent Army (who have High Hopes);
And the cross-art artists of Earthbound Trio tell about Mother (from Lettuce, Turnip, The Beet).

Podcast: Play in new window | Download
Subscribe: Android | Google Podcasts | RSS