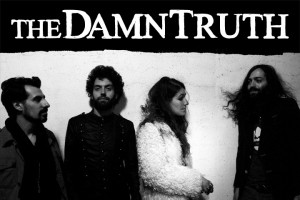 The Damn Truth is my latest obsession. A rock n' roll band from Montreal, they infused elements of blues and classic rock to bang out their latest album Dear In The Headlights. Imagine mixing together The Black Keys with a dash of The White Stripes. They tackle the "throwback to the '70's sound" without taking it too literal like The Sheepdogs. And the vocals! The Damn Truth's Lee-La sounds an awful lot like The Balconies' Jacquie Neville, and that's probably the biggest compliment I could ever give.
From the very beginning my toe was tapping, I found myself turning it up louder and louder which is appropriate as the back of their CD reads For Optimal Experience Play This Record Loud.
Track by track this entire album is strong, you'll find no filler here.
Stand out tracks:

Kinda Awkward
I Want You (He's A Lightweight)
Too Late