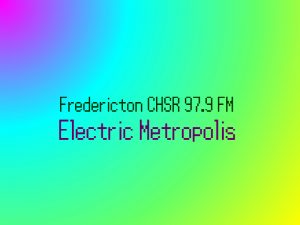 I am AD Springer, your musical tour guide to all things future funk, chiptune, synthpop, and other reach out and grab you music in the electronica sphere on The Electric Metropolis. Come tour the city of sound with me from around the world! On this tour you will hear some hard chips, some soft chips, and all that resides in between. I like'em both, I think -at least this time- you will too. Though don't forget there is always a bit of party time left on the tour.
Featuring songs from Louie Aronwitz's album Thrashlevania; coda's Cloudtop Mountain; and The Midnight's Nocturnal and many others! This is the sort of music that clubs and bars of the future will rock out and lounge to. These are the songs that will get your heart pumping and put your mind at ease.
The chips are such tiny things that can disappear into the palm of your hand; but with a few complex commands, the world of sound opens up and crafts a city sprawl so wide that the tour will always hear fresh sounds and new vistas every night all night. So come with me, grab some chips, and let us see if we can make this city a bit bigger. Though first, let's tour about a while.
Tour Itinerary:
First Stop:
"Part I" by Smoochyface off the album The Cracks Are Where the Light Shines Brightest
Hard Chip District:
"IRQ 0 SYSTEM CLOCK" by MASTER BOOT RECORD off the album INTERRUPT REQUEST
"Straight Edge Child" by Louie Aronowitz off the album Thrashlevania (Music from Castlevania) as put out by Materia Collective
"Guns of Caracas" by National Broadcast Network off the album 7 Billion Volts
Soft Chip District:
"Cloudtop Mountain" by coda off the album OMEGA STRIKE Original Sound Version as put out by Scarlet Moon
"Wishy Washy" by Darius off the album B-SIDE U: 2017 VOL. 1 as put out by HALLEY LABS
"Shinko no kiseki" (AKA Miracle of Faith) by Kommisar off the album Cosmic Phantasm
Future Funk District:
"I Can Tell" by YUNG BAE off the album B4E
"Yami" (AKA Night) by Dan Mason off the album Miami Virtual as put out by Business Casual
"The Getaway" by Aloe Island Posse off the album Goodnight Aloe Island
Synthpop District:
"Shadows" by The Midnight off the album Nocturnal
"Reach For The Stars" by Dana Jean Phoenix off the album Synth City
"Built 4 Love (feat Ninja Sex Party)" by TWRP off the album Ladyworld
Final Stop:
"Rejection" by Norrin Radd off the album Noisechan & Nugget: Adventures in Chiptunes as put out by ubiktune
Got any suggestions for future tours?
Tweet me @ElectricMetCHSR
or
Email me electricmetropolis [at] gmail [dot] com

Podcast: Play in new window | Download
Subscribe: Google Podcasts | RSS