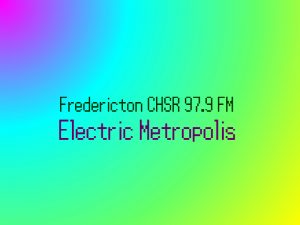 I am your musical tour guide AD Springer, tonight I want to paint a picture for you. So we are cruising along the neon-lit streets of The Electric Metropolis, when suddenly, the tour bus is awash in a wall of rain near-on freezing yet warmed up enough to splash onto the road. Then it hits us, even when the skies open up and the roads turn to ice, we can keep cruising along to the beats that keep us smiling, nodding, and thinking. What I am trying to say is, please, do not stick your head out to drink the rainwater -it is very cold; do not wave your hands amidst the rainfall -you will just get the seats wet; and finally, most importantly: do not forget to enjoy the ride and enjoy whatever you want to enjoy. Although we are cruising along in a synthetic and digital metropolis of song and sound: we can always find that connection between the blinking lights and crunchy sounds.
Tour Itinerary:
First Stop:
"Inaugurate Me" by The Trick off the album Inaugurate Me
Chiptune District:
"Mizu" by Theodore West off the album Re:Human
"A Sunday with a Korg M01" by Lazy Nerd 204 off the album M01 Redux
"Keyboard Demo Attack!" by PROTODOME off the album BLUESHIFT
Future Funk District:
"Bittersweet Love" by Ayaka 
"Tigerstyle" by Aloe Island Posse off the album Internet Discotheque
"Dreamer's Street" by Cero Rio off the album Towards the Future
Synth District:
"Jaguar Future Party" by Jaguar Knight off the album Unknown Futures
"Chasing the Sunrise" by Archie off the album Archie
"Neon Tattoo" by Mirrorvoid off the album Neon Tattoo
Return of the Chiptune District (With a VGM twist):
"DX H34V3N [cTrix]" by Tuberz McGee off the compilation album The Great Australian Barbecue Bash vol.1
"Walls of Judgement" by Jeff Ball off the Tiny Barbarian DC: Sinister Tower Original Soundtrack
"Outside The White Shadows" by chibi-tech off the album Psycho Somatic Generation
Final Stop:
"A Neon Glow Lights the Way" by Garoad off the album VA-11 HALL-A – Second Round
Got any suggestions for future tours?

Podcast: Play in new window | Download
Subscribe: Google Podcasts | RSS