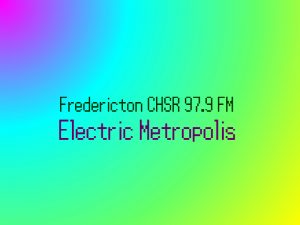 I am your musical tour guide AD Springer, happy to report it is indeed snowing here in The Electric Metropolis, even if the mass of neon lights are melting the snowfall away. The metropolis is at a nice and cool temperature, just enough to make you wear a jacket but not enough to be bitter. Perfect time to listen to some of the lovely sounds of the city and the denizens that make it pulse and beat all the way to the stars and back. Our tour will start fairly busy, with all the traffic and all, before we cruise through the synth district. We'll see some familiar sounds in the Chiptune district before seeing a couple cool new ones in Future Funk. The VGM district will have some blasting winds of great music to some equally great games, so keep an ear out. At our last stop, we'll be just in time to catch the beautiful rise of the clouds to reveal the great expanse all around; try not to mind the heavily armed androids, they just like the view too.
Tour Itinerary:
First Stop:
"Grimoire Blanc" by Dan Terminus off the album Automated Refrains
Synth District:
"Eclipse" by Nerex off the  Hyperspace EP
"FOODBAR" by TWRP off the album Ladyworld
"Unicorn (Magic)" by Dana Jean Phoenix off the album Synth City
Chiptune District:
"Interstellar Good Times" by PROTODOME off the album CHIPFUNK
"Tracking Eva's DSi Usage" by Lazy Nerd 204 off the album M01 Redux
"Down Under Zone" by Game Genie Sokolov off the album Background Sound 01
Future Funk District:
"Wild style" by Waifu Avenue off the album PINK NEON TOKYO COMPILATION VOL 2
"Moon Beams" by Isaac Galvez off the album Isaac Galvez | Hypnosis
"Nightlife" by Snowshoo off the Snowshoo EP
VGM District:
"Together We Stand (Together Always)" by Eino Kaskitalo, Jorito off the compilation album Secret of Mana: Resonance of the Pure Land! from ocremix.org
"Ultima" by MASTER BOOT RECORD off the album WAREZ
"Part II" by Smoochyface off the album The Cracks Are Where the Light Shines Brightest
Final Stop:
"NieR: Automata "Beautiful Rise" OCRemix" by RoeTaKa from the website ocremix.org
Got any suggestions for future tours?

Podcast: Play in new window | Download
Subscribe: Google Podcasts | RSS