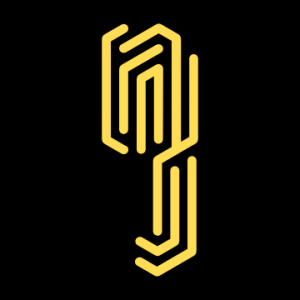 Having seen Joyful Noise perform live and having had a fantastic time doing so, I leveraged the substantial power and influence afforded me as a volunteer reviewer for CHSR to have an early listen to the band's debut EP "Cocoloco".
Firstly, let's get the technical details out of the way. Cocoloco is a 5-track collection of original instrumental music recorded and engineered by Brad Perry and Evan Hansen at The Recordery in Fredericton, NB. It was mastered by J. Lapointe at Archive Mastering in Mineville, NS.
Joyful Noise is:
Corey McNeill – Guitar
Camilo Villamizar – Bass
Jason Berube – Drums
I think the best approach is to unpack this thing track-by-track and give you my thoughts.
The first song, "Bertha" has been an earworm for me since they first released a live video from The Recordery a few weeks back. The main theme of the composition involves plenty of clever interplay between guitar and bass, with a rock-steady groove from Berube tying the whole thing together. There are several mini-movements within this track, moving from funk, to a modern jazz swing, with a bit of classic rock thrown in for good measure toward the end. I can't get it out of my head, and I'm not upset about that fact in the least.
In the second slot, Gimme D'dart starts out with a driving staccato groove, again with the careful coordination and interplay among the trio that Joyful Noise is known for. Again, it moves from the initial pocket through movements that build tension, and then display pop sensibility (albeit with swagger) and even hints of prog rock and Latin flair as the composition soars in the latter stages.
The titular track sits in the 3rd spot, and leads with some psychedelia for the digital generation, superimposing the sound of ocean waves over an 8-bit / chirp introduction before it hits its groovy stride. McNeill and Villamizar take turns driving the melodic themes while Berube sets the tone, from a happy rolling stroll to a more aggressive, frantic pace until Cocoloco reaches its Joyful and cheeky resolution.
Next up is Quantum Fish Sticks, which comes out spitting fusion everywhere with the guitar moving through chord melodies in lock step with the bass and drums. And just as you are furiously grooving out with the tune, it then starts to swing around the 1:15 mark. The track ensures that if you are dancing along, you are most certainly on your toes, with some tight unison stabs before it gets back to the business of grooving hard. It continues to switch gears to the very end. This band really does a fantastic job of making sure that a reviewer runs out of clever non-repeating adjectives to use in describing their work.
On The Way marks the finale of this captivating piece of work. It conjures an air of mystery and tension before things get a bit heavy and the groove drops. At 8:32 in length, this epic keeps moving and engaging the listener through different mini-adventures before catching a triumphant wave that carries the jam to its conclusion, blasting them off to their next inevitable quest.
Overall, Joyful Noise creates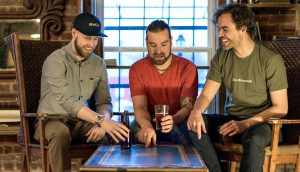 a very intricate and complete soundscape as a trio, and only minimal overdubs are evident anywhere. This album truly captures the joy and the musical mastery that the band brings to the stage every night. They obviously have worked extremely hard to make it look and sound easy. Make no bones about it: Joyful Noise is the real deal. They are each masters of their individual instruments, but the product as a whole is so much more than the sum of those parts, and clocking in at just over 33 minutes, there is a lot to enjoy again and again.
If you are a fan of great instrumental music, this EP is a no-brainer. If you aren't a fan of great instrumental music, there's a very good chance that this record will change your mind.
I have it on good authority that the band's name "Joyful Noise" is both a nod to the Derek Trucks album of the same name and the musical mission statement for the trio. That being said, for many, the term "joyful noise" holds a religious connotation. Whatever camp you are in on that topic, if you are looking for a non-denominational religious experience without having to set foot in a sanctioned place of worship, I recommend you spend some time with this EP, and then get out and see these guys live. The joy that they derive from performing is infectious, and their stellar debut EP, Cocoloco, does a fantastic job of capturing that spirit. We could all use a bit more Joyful Noise in our lives.
Check out the EP now:
Bandcamp: https://joyfulnoisenb.bandcamp.com/releases
Spotify: https://open.spotify.com/album/7HuRVkCbuXakR9DNH7290i
iTunes: https://itunes.apple.com/mu/album/cocoloco/1377180379
Go give them a like on Facebook: https://www.facebook.com/joyfulnoiseband
And be sure to catch one of their upcoming shows.
Have your own opinion to share with me? Get at me on social media:
http://www.twitter.com/ColinFowlieNB
http://www.facebook.com/ColinFowlieNB
http://www.instagram.com/ColinFowlieNB
MySpace URL available upon request