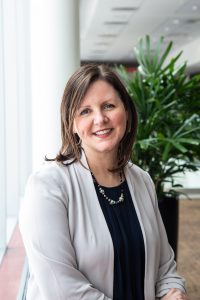 Since the beginning of the global COVID-19 pandemic, Dr. Jennifer Russell has become a celebrity and a fixture within the lives of New Brunswick residents. In this interview with Dr. Russell, we delved into her background, the introduction of a new type of celebrity – the medical expert, and spoke about the effects of the current pandemic on the New Brunswick healthcare system and what we have learned about preventative measures for the future.
Dr. Jennifer Russell was born and raised in Bathurst, New Brunswick. She pursued studies in Music at Dalhousie University, followed by Science at UNB and Medicine at Memorial University. She finished with her Family Medicine Residency at Dalhousie University.
Dr. Russell spent 10-years serving as a Medical Officer in the Canadian Forces and did a short tour overseas to support the mission in Afghanistan at Camp Mirage in Dubai. After her last posting in Gagetown, New Brunswick, she worked in Addictions and Mental Health, did locums for Family Physicians and worked part-time as a Hospitalist.
Her Public Health career began in 2014. Dr. Russell has been able to use all her previous clinical experience to help inform and shape policy recommendations and decisions. Throughout the COVID-19 Pandemic, as Chief Medical Officer of Health, she has demonstrated great leadership and communication abilities and continues to work with her large team of colleagues and staff on the evolving COVID-19 response, always keeping in mind the social determinants of health.
She has a passion for upstream prevention and has provided input on approaches to substance use in youth, resulting in a new pilot project based on research in Iceland. She has worked on the opioid task force and the cannabis legalization working group. She has presented on the Public Health implications of Climate Change. Dr. Russell has taught classes at the medical school in Saint John and has been the keynote speaker at several events over the last two years, describing lessons learned in the pandemic and speaking about resiliency.
She is also the mother of two active teenagers and when time permits she writes music and sings, and plays the saxophone with two local bands. She loves to read and participates in two book clubs. She has received several awards of recognition, including the Paul Harris Fellow, and the Order of NB as well as honorary doctorates from Mount Allison University and Universite de Moncton.

Podcast: Play in new window | Download
Subscribe: Google Podcasts | RSS