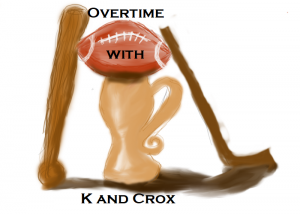 Welcome all sports fans, to another opinionated episode of OVERTIME with K and Crox
On the show today:
The 105th Grey Cup
AKA Bo Levi Mitchell is straight up cursed
AUS Hockey
AKA Why the STU Women's Hockey team can't get no respect
Vegas Golden Knights
AKA Stanley Cup Contenders?
Calder Trophy Race
AKA Which kid is alright.
MLS Semifinals
AKA TFC's Road to Redemption
NFL/PA Activism Grant
AKA Rich, Old, White guys trying to buy-out a protest.
Thanks to our good friend Amanda Dawn Elder-Hall for the excellent button logos that we'll be able to tag our posts with and distribute.
– K

Podcast: Play in new window | Download
Subscribe: Google Podcasts | RSS