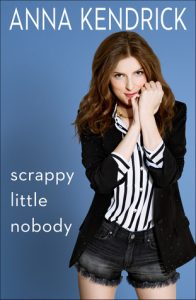 Witty, nice, Tony and Oscar award nominations and being a part of one of the biggest teen movie franchises in the world, you'd think Anna Kendrick had it all. But in her book, Scrappy Little Nobody, Kendrick recounts stories from her humble beginnings in Maine, on her trips back and forth to New York to work at such a young age, her rise to stardom, and behind the scenes stories from movies we've all seen like Up in the Air, Mike and Dave need Wedding Dates (she explains how Zac Efron is comparable to Charles Manson), and Pitch Perfect. Scrappy Little Nobody lets you get to know Kendrick on a more personal level and helps make you realize that even Hollywood stars are just everyday people. 
Purchase your copy of the book here!
Warning: This episode contains major spoiler alerts. 
Now available as a podcast!
If you'd like to join in on the fun, check out Readful Things on Facebook or email Erin at recruiting[at]chsrfm.ca
April's novel is Neverwhere by Neil Gaiman and we'll be meeting early May 2017 for discussion.

Podcast: Play in new window | Download
Subscribe: Google Podcasts | RSS