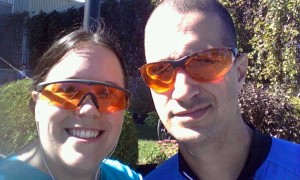 Last sunday Fred (from "Hi! I'm Fred") and I participated in the NB Lung Association's signature event, the Bike for Breath, for a second time.  Last year was our first year doing it and we trained all summer.  We wanted to do it as a physical challenge to ourselves but then found it was such a rewarding event that we knew we would be coming back this year.  Last year we had great weather leading up to the event and miserable weather during the event.  This year we had a lot of rain leading up to the event making training difficult but the day of the weather couldn't have been better.  It was perfect.  Warm in the sun, cool in the shade.  No wind to speak of at all.  Perfect day for a ride.
Fred was signed up for the 66K and I was signed up for the 17K (it was a 28K last year which is a better distance for me I think).  One day I'd like to do the longer ride, but 66K is just out of my reach at the moment.  Another difference from last year is I have a new (to me) bike.  Last year I had a cruiser which I loved, it got me back into biking and made me feel like a kid again, but this year I needed a real roadie.  Lucky for me my mother offered me her old one, I just had to bring it up from NY.
The routes for both races were beautiful, even if you don't get to do the bike for breath you should travel these routes, you will see prettier landscapes than you ever believed were around Fredericton.  Don't get me wrong, I love our city and the surrounding area, driving along the river you can't deny its ascetic appeal, but riding on a bike through the changing colours of fall, going over bridges and riding past rapids, it was awe-inspiring.
When we finished the ride we each felt amazing.  Unlike how I feel after a run, I felt like a super hero!  I felt like I could have done it again.  I felt amazing and I was pumped up.  The volunteers were very nice and had quite the energy boosting spread ready for us.  After the ride we chatted with other riders and waited for our heart rates to return to normal.
Later, there was the Chill Out.  Bikers who raid $50 or more are invited to join the Chill Out, it's a little celebration with food in the James Joyce Pub and a beer tasting from Picaroons. (this beer tasting last year made us Picaroons customers)  Again there was an opportunity to mingle with other bikers and get to know people, but more importantly this was where the NB Lung Association was able to present to us all of the amazing things they have been doing over the last year.  This where I discovered some of the bikers I was riding with and paling around with all day were lung transplant survivors, one a double lung (talk about real super heroes).  How one of the bikers I had spent a good long time chatting with was the father of Catharine Pendrel, Olympic mountain biker and spokesperson for the Bike for Breath.
We found ourselves already planning for next year.  Next year we'd like to have a full CHSR team.  Sure not everyone will bike, but we can raise money together and support each other.  I encourage anyone reading this to get involved, and when there is an event like this in our community jump in!  It might make you feel like a super hero!