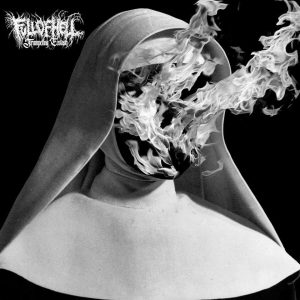 The fuzzy noise of Full of Hell has the stage all to itself once again, morphing into a relentless barrage of riffs and songs unlike anything anyone has ever seen from them. "Trumpeting Ecstasy" is the first full length solo release from the grindcore quartet since 2013 and is making even their most hardcore fans realize that it has been far too long. Clocking in at just over 23 minutes of running time, this is a record for fans of the band both new and old, showcasing the best of their previous and future sound.
             "Their riffs are more articulate yet come across more intense. The shifts are as dynamic as ever but with a bit less noise emphasis this time around. The focus is more on death metal and grind, with the hardcore parts a bit less often but as effective as ever. This band just doesn't seem to let up and seem like they'll keep getting better and better." – Mike Belliveau, Guitarist of Fifty Feet of Earth
The first half of the album is a five-punch combo that kicks the door open on their refined sound. The album's lead single "Deluminate" sets an almost unsustainable pace for the listener, pummeling them with menacing leads and black tongued vocals. This shifts rapidly into "Branches of Yew" and "Bound Sphinx", tracks which stay true to the traditional grindcore structure yet stand out with a strong saturation of sludgy death grind and doom inspired breakdowns. "The Cosmic Vein" follows that up with a grand showcase of the range of vocalist's Dylan Walker and Sam DiGristine, which are accompanied by more dark melodies and a brief indulgence into the realm of black metal. "Digital Prison" lands the final blow of side A with another classic burst of trademark demonic noise.
The heavyweight tracks of this album come out swinging on side B. "Crawling Back to God" and "Fractured Quartz" roll out some of the best guitar parts written by the band to date, opting for complementing dynamics as opposed to piling on the noise. "Gnawed Flesh" and "Ashen Mesh" further this motif with cohesive shredding that perfectly transition into brutal slams. Trumpeting Ecstasy", the album's title track, tips the scale on both ends of the bands spectrum, casting a wide lens of the bands roots and the parallel that is their experimentation and growth. The album concludes with "At The Cauldron's Bottom", which embodies the metamorphosis of the band in the present moment. The longest composition on the record, the band once again hits that dark vein of their music with vile root notes coated in slimy vocals. The somber accents of the song are consistent from its aggressive start to it's powerful conclusion of slow chugging and distorted drums, dragging out the final bars to cement the record's impression on all who listen.
Listen to the album here: https://profoundlorerecords.bandcamp.com/album/trumpeting-ecstasy
Check out Mike's band Fifty Feet of Earth here: https://fiftyfeetofearth.bandcamp.com/