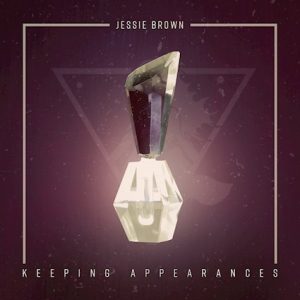 The warm rasp of Jessie Brown's dangerous blend of fuzzy rock is a soundwave grown from the roots of the best power singers in history. With the lungs of Janis Joplin and the range of Freddie Mercury, Brown has been captivating audiences, both big and small, filling the spaces that remain with her captivating and often psychedelic vibes. Her first full-length offering "Keeping Appearances" is a raw, transparent vendetta to remove all filters.
The album's depth is incredible, with moving anthems such as "DEBT (We Ain't Got No Money)" and "Voyeur" to the internally charged soul songs "That's What Happens" and "Someone Else". Over ten tracks Brown sifts through the rolodex of human emotions, handling some aggressively and others with gentle care. Her well-seasoned voice holds the listener's hand step-by-step through every note, with every expression detailed through expert-level phrasing and top notch vocal control.
Providing the hallucinatory backdrop to the album is the trippy tones of bassist Jason Vautour and the rumble and swing of drummer Thomas Spence. The rhythm section uses licks and patterns blanketed in a glaze of pedal effects that brings their simplistic riffs to life, making them bigger than themselves while creating a comfortable pocket for the vocals to flourish. This is what gives the music it's unorthodox flavour and the album it's X-factor.
The most separatory element however, is the moments where the music sheds it's amplified skin, leaving nothing but an example of the bands pure, unquestionable talent. The best example of this is the track "Regret", where the music stops almost abruptly, leaving Brown and her bandmates to close out the final minute and a half a cappella, with no instrumentation apart from snapping fingers. Another is the albums final track "A Thank You", where Brown sees her audience off with an uplifting solo ballad where she intimately connects with the music coming out of her keyboard.
You can hear the first full, public listen of Jessie Brown's new album at her listening party at Good Robot Brewing in Halifax, Nova Scotia on September 28th. There will be a silent auction during this event as well with all proceeds going to The Adsum House.
Listen to the album digitally on September 29th here: https://jessiebrown.bandcamp.com/
Tour Dates:
Sept 28th – Listening Party at Good Robot Brewery (Halifax, NS) *Fundraiser for The Adsum House Halifax*
Oct 7th – Gobble Fest (Sydney, NS)
Oct 13th – La Vitrolla (Montreal, QC)
Oct 14th – The Bovine (Toronto, ON)
Oct 28th – Gus' Pub (Halifax, NS)