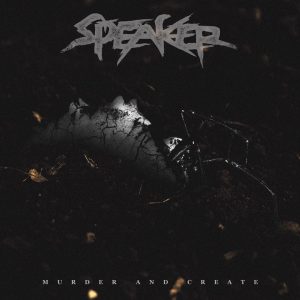 Toronto, Ontario band Speaker must be named after the things they destroy. Their new album "Murder and Create" provides a new incarnation of their sound where they strip themselves of any traces of the traditional structures of hardcore. The band plants their feet in the perfect head-space to do what they do best, which is spitting venom into their listeners ears.
The album makes a conscious effort not to be linear. The climax of it's riffs are scattered and unpredictable, roughing up the aesthetic of the music. Each track leaves you battered and bruised with little time for a full emotional release before throwing you back to the wolves.
A lot of extreme elements are on display, with the six tracks containing very little rhythmic sway. The band pummels the audience with gut-wrenching distortion and vocals made of molten lava. Producer Scott Middleton, also guitarist of Cancer Bats, has pressed blackened diamonds out of the band's instrumentals with a wide sampling of tones and effects and a mix that brings their low end to an even darker place.
The band has taken a huge step in bringing their passion and energy into their studio recordings. You can feel the veins popping out vocalist Liam Sibley's forehead as he tears apart every fiber in his vocal chords, keeping pace with the weighted crunch of every note in every guitar part. Drummer Marc-Anthony Pellegrino is relentless with his hits, creating a metallic, industrial sound that allows the band to tread waters with the likes of Nails and Converge in terms of shear brute force. The band set out to make this record aggressive and personal, and there are few other words that describes the album better.
"Murder and Create" releases on November 10th with a tour supporting Die Hexe starting in Montreal on November 16th.