On this episode I'm joined by Chris Waddell, Larry Hall and Ian Noble to talk about the upcoming benefit show for the late Donnie Robichaud and all the ways you can help support the memorial trust fund for his children. One of which is by purchasing a "Rock For Donnie" t-shirt which my guests are wearing in the photo below.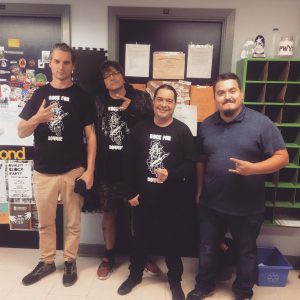 We also debuted the latest track from Enemy Designed and a couple tracks from the new releases from Verses and Revocation.
Be sure to tune in this week where we will showcase some new tracks from the recently released album "Derelict" by Saint John's Elevate The Virus and the new EP "Graves" from Keith Doom And The Wrecking Crew!
Playlist:
Hell On Earth – Enemy Designed
The Jackal – Dischord
Parasites – Elevate The Virus
Drowned – Verses
A Foot From the Grave – Verses
Kill Scene/Zombie Nation – The Wasteland Zombies
Jeremy – Deep Fryer
Born of the Same Sun – Orchid's Curse
False Content – Anthesis
A Song About Aliens – The Green Lung Grinders
Can't Escape The Evil – Castle
The Illusion of Dignity – KEN Mode
Obsolete Beings – Voivod
Sire Of Sin – Cryptopsy
Entre Suffrage Et Mirage – Beyond Creation
The Outer Ones – Revocation
That Which Consumes All things – Revocation
The Sentry – Gorod
Dead Behind The eyes – Soulfly
Wolves Ov Siberia – Behemoth
Matriarch – Black Dahlia Murder
Holier than Thou – Metallica
O.D.H.G.A.B.F.E – Lamb Of God

Podcast: Play in new window | Download
Subscribe: Google Podcasts | RSS | More