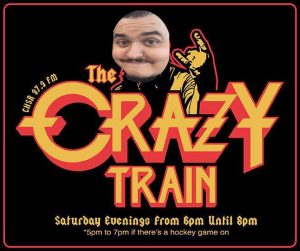 Passengers of The Crazy Train! Welcome back!
This is your new conductor Johnny James! Many thanks to outgoing host Chris Waddell for passing the torch on to me and letting me keep this show going! I hope I do it justice!
Here is the first podcasted episode of a new era, the first of many! Lets make it memorable!
Cheers!
Johnny James
PLAYLIST:
HOUR 1:
Crazy Train – Ozzy Osbourne
Glass Atlas – Tactus
Slaves To The Metropolis – Aftrr
Severed Head Shrine – Root Cellar
Remote Controlled Ignorance – Elevate The Virus
Reunion – Anthesis
Our Burnt Treasure – Greber
Carcinogenitalia – The Green Lung Grinders
Absolute Sacrifice – Get The Shot
I, The Narcissist – Joy Departed
Witch Hunt – Lionsault
HOUR 2:
Centuries of Suffering – Testament
Towards Babylon – Behemoth
Caught In A Mosh – Anthrax
Pathetic – Lamb Of God
Piece By Piece – Slayer
Iron Fist – Motorhead
Firepower – Judas Priest
Underneath A Melting Sky – Inanimate Existence
Sedated And Amputated – Visceral Disgorge
Human Murmuration – Archspire
Kings of Sorrow – August Burns Red
Invisible Enemy – August Burns Red
BRAND NEW VIDEO FROM THE GREEN LUNG GRINDERS: https://www.youtube.com/watch?v=bVBNdkYNB14&feature=youtu.be

Podcast: Play in new window | Download
Subscribe: Google Podcasts | RSS | More