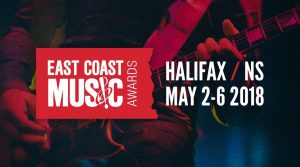 The East Coast Music Association turns 30 years old this year, making this years East Coast Music Awards a monumental week in the growth of music in Atlantic Canada.
The field of nominees are set and the talent on display is, not surprisingly, a special group of artists. Some categories draw pity for the judges who must pick from the stacked list of nominees.
To divulge more into this year's nominees and look back on some of the great music released here on the east coast, here are some predictions for this years East Coast Music Awards.
Before beginning, I would like to preface that not all categories are included. I excluded any fan voted awards and industry awards as I can not give predictions on these awards in a way that is worthwhile. I also excluded some categories that I have little knowledge on for similar reasons. If you have any comments on the categories I omit, please share them below we all can learn more about these artists.
Country Recording of the Year
Kicking off this year's class is Jason Benoit and his percussive country pop album "WAVES". He is followed by Makayla Lynn's "On A Dare and a Prayer", a record with vocals that carry tons of weight with empowering stomping rhythms.
Then we have a handful of traditional country acts. Including the rustic southern charm of Whitney Rose's "South Texas Suite" and twangy vocals and spoon tapping tunes of Pretty Archie and the album "Sing Alongs and Love Songs".
The act that stands out in this category brings a live western atmosphere complete with hooting, hollering and clapping with breakdowns of modern indie rock. The Hypochondriacs and their album "The Hypochondriacs in ¾" lives up to it names by incorporating the waltz time signature while keeping the album engaging and lively. This is no Conway Twitty album, the Hypos bring a hell of a lot more heart and are a force to watch out for in this category.
Blues Recording of the Year
Earle and Coffin starts our list with their album "Wood Wire and Bone", a release chock full of upbeat jams, heartfelt ballads and sad numbers that will leave a lump in your throat.
Shirley Jackson and Her Good Rockin' Daddy's follows with the playful horns and big band sound on "Things Keep Looking Up".
Also nominated is newcomer Mike Biggar, who has quickly established himself with his emotional vocals, big guitars and intimate connection with his audience on his debut album "Go All In".
Then of course is east coast favourite Matt Minglewood, who's unmistakable rasp and raw, groovy guitars are on full display with his latest release "Fly Like Desperados".
Plenty of talent on display here, but the artist that goes just a little bit further with powerful vocal rhetoric and crisp distorted guitars is Wayne Nicholson and The Eastenders.
Their album "Diggin' The Dirt" brings chest pounding blues rock and truly captivates the ear to the point you feel like you're listening to a live concert. Tip your cap to Wayne Nicholson, this years best in east coast blues.
Folk Recording of the Year
Keeping the status quo, the folk category has no shortage of talent here on the east coast. Amelia Curran starts us off with the subtle vocal stylings of her album "Watershed", a release that lets the music do all the talking.
She is joined by Catherine MacLellan and her endearing tribute album to her father and iconic singer/songwriter Gene MacLellan. "If Its Alright With You" is an homage to late Canadian icon recreated through his own flesh and blood. MacLellan even performs her fathers many hits including "Snowbird", the first song to every be inducted into the Canadian Singer/Songwriter's Hall of Fame.
Speaking of Canadian music royalty and family connections, Joel Plaskett shares his latest record "Solidarity" with his father Bill. It is a record which exposes the origins of the artist Joel is today. The way his golden tones work off his father's baritone allows you to listen to the past and present simultaneously in an atmosphere that sounds very much like a father and son jam.
The East Pointers are also nominated this year for their album "What We Leave Behind", which combines stoic pop vocals with sweet folk guitars and banjo.
My pick for this category is an artist that will not be a stranger to the podium as she leads all artists with eight total nominations. Rose Cousins' "Natural Conclusion" provides a great atmosphere with a track list full of songs that will give you goosebumps. Every moment is relishing and captivating, you won't be forgetting her name anytime soon.
Jazz Recording of the Year
Florian Hoefner leads off the jazz nominees with the album "Coldwater Stories". This instrumental encompasses lots of sporadic piano but also slows down more than a traditional jazz sound with lots of classical overtones.
Next is Heather Bambrick's "You'll Never Know", a record that is phrased a lot like a musical with poetic lyrics and impressive vocal climbs. The instrumentation is quite reserved but in a way that accompanies the vocals well.
Willem Paynter is up for his bass climbing, traditional hard-bop styling on his album "Wise Guy". Also joining him is the duo of Paul Tynan and Aaron Lington and their record Bicoastal Collective: Chapter 5. The fifth installment in an album series of their traditional, orchestral sound.
Standing out in this group is Les Paiens and their album "Carte Noire". This album is full of futuristic jazz that appeals to a very broad audience. The rigid bilingual vocals are laid out in a very unexpecting way and layered with interesting background samples, breakbeat drums and some sounds that are on the verge on electronica. This is a highly underrated album that is more than deserving of these honours.
Instrumental Recording of the Year
Amy Brandon leads off the strictly instrumental category this year with "Scavenger", a record of classical guitar playing with an atmospheric electronic backdrop.
Michael Maillet follows with the orchestral jazz fusion of his album "Entropy" along with the traditional fiddling of Rosie MacKenzie on her album "Atlantic". The aforementioned duo of Paul Tynan and Aaron Lington are also included in this year's category.
Chronos stands as the artist to beat for this award with his album "What It Is". This record sounds like the sound track for the next James Bond film and automatically makes you cooler just by listening to it. The swampy, grimy rhythms keep it smooth and cool with great harmony between the bass and horn sections. Straighten up your black bowtie and pour the scotch when this record starts playing and raise a toast when they take home this year's award.
Electronic Recording of the Year
We start on the very interesting field of electronic artists with Elephant Skeletons and their album "Traveller". This release has a diverse mix of sounds including horns, grungy riffs and acoustic guitar with low bass beats and overdubbed vocals.
Nicole Ariana follows with her three-act album "STRAND" and its slow building atmosphere with echoing, melodramatic vocals.
Rozalind MacPhail brings the ultimate soothing noise track with her two-part album "SUNSET SUNRISE", while Veev's "Golden EP" brings groovy house vibes mixed with cool vocal samples.
Leading this category for me is PINEO & LOEB and their album "LIFEBLOOD". This album features a plethora of big names on its features list and the duo conforms beautiful to each of their sounds.
From percussive beats with Ghettosocks or loud bass with Quake Matthews, each song stands on its own two feet very well. The album also includes an electronic rendition of Ahead By A Century in honour of the late Gord Downie of The Tragically Hip. It's a complete album from front to back and will hopefully be feeling the vibe of ECMA winners soon.
Pop Recording of the Year
Ian Janes mixes pop music with country, blues and rock in his latest album "Yes Man". The solo artist also brings a very soulful voice along with some piano to a very complete release.
Jenn Grant's album "Paradise" is up for six awards this year. The record is very ambiguous with bouncy piano parts and playful guitars to create a very motivating atmosphere.
KINLEY's "Letters Never Sent" follows with uplifting jazz and soft yet powerful vocals. It makes good use of folky instrumentals to bring a sense of realism into its tracks.
Rising stars Neon Dreams are also nominated for the vibrant and colourful "To You". Bringing infectious beats, rhythms and club hooks, the group also hits hard with passionate lyrics and vocals that have made them a huge draw on the east coast.
Port Cities take this category with the new soundtrack of the Maritimes. Their self-titled debut album fuses male/female harmonies into a sound that is catchy while still maintaining its artistic integrity. With plenty of east coast charm, this group is a very promising act to bet on in the coming years and their hit "Back To The Bottom" will not be their last.
Rap/Hip-Hop Recording of the Year.
City Natives represent their indigenous roots proudly on their album "Dream Catchers" to start us off on the Rap/Hip-Hop category. The group's layers of versatile flows kill it on a variety of beats from Anthemic, to classic Boom Bap, to new wave hip-hop. Chorus' where the diverse tones of each members voices come together to sweep the audience off their feet with singing that is just as impressive as their rapping.
Fortunato's aggressive, hard hitting rhymes mix with powerful beats from DJ IV on their collaboration album "2 Bad Dudes". From old school record scratching to hype filled chorus' this is a record that will make you bob your head and put your hands up.
Mitchell Bailey follows with the self-evident message that he has something to prove with the album "Last Time Introducing Myself". With youthful, positive overtones, confident verses and melodic chorus' Bailey comes into his own and no one will forget his name anytime soon.
Quake Matthews continues to define himself as a leader in east coast hip-hop with his amazing storytelling chops on "Celebrate The Struggle". Matthews has become a master of talking about difficult topics with a vibrant outlook. His delivery has seasoned to the point where his music can convey these powerful messages without taking away from the musicality of the art.
Ghettosocks rounds out this year's class as the favourite for this category with his album "Diamants en cendres". His grimy and smug flow delivers his rhymes confidently over heavy beats that make great use of piano to give them a deeper feel. This seasoned vet continues to be one of the faces for hip-hop on this side of the country and with that will most like take home some hardware for it.
Roots/Traditional Recording of the Year
A category with no shortage of artists year after year is the Roots/Traditional Recording of the Year. Coig begins this year's class with their album "Rove" which has very likeable celtic rhythms and a pleasant, upbeat tone.
They are joined by MacIsaac and MacKenzie with their instrumental album "The Baystreet Sessions". The record is an excellent pairing of the duos fiddle and piano skills with plenty of signature maritime melody and is a full sound that still tells a story with no words.
Next comes Matthew Byrne with his island-themed, euphonious release Horizon Lines which is very much directed as a tribute to sound of his native Newfoundland and Labrador. It's a collection of story-driven music that even features a cover of one of his obvious inspirations; River Driver by Canadian icons Great Big Sea.
Also nominated is the collaboration album "GOOD2GO" by Scott MacMillan and Colin Grant.
My favourite for this category is the incredible duet of Cassie and Maggie and their album "The Willow Collection". With the instrumentals providing a warm, outdoorsy feel to the record, the duo intertwines their distinct harmonies and the acoustics of their fiddle and guitar. The album has somewhat of a cohesion with most of its themes having some level of discourse about nature. It is easily the most original and complete release in this category.
Rock Recording of the Year
Easily the most stacked category for this year's awards. Its a collection of new-comers and well-established staples of their respected regions.
We start with Alert The Medic and their revelation album "Let Them Have Their Fun". This album is probably the most authentic we have seen the Halifax rockers with a newfound raw power fuelling a track list that stands firm as both individual tracks and a whole. It also features the most commercially successful track to date with "Corporate Kid", a song which basks in the beautiful irony of choosing individuality over profit.
Next is the album "High Hopes" by Like A Motorcycle, a band that has been making even more noise than their guitar tones since taking home Rising Star Recording of the Year last year. An award they promptly drank out of, made countless joke videos about and auctioned off to the highest bidder; no joke.
This album has tons of well executed melodies that meld well with just how grimy the low end gets. You'll never find a punk album that is this catchy and you will be hard pressed to find an act as in your face and as willing to spray whiskey into a crowd than this band.
Mo Kenney follows with her third album "The Details", a record full of brash, stripped-down guitars and soothing vocals. It fuses the groove of pop and the fuzz of rock with ease and contains plenty of acoustic overtones. The details, pun intended, are present front to back.
Also nominated is the band Partner and their album "In Search of Lost Time"; the most lighthearted and fun release on this list. Hard rocking guitars and flavourful pop melodies are consistent throughout every song and the lyrics make you want to simultaneously sing along and laugh out loud. There are also plenty of notable harmonies with is fitting as it is the cohesiveness of this album that puts it in this elite class of maritime talent.
It was tough to decide on my prediction for this category, but ultimately, I had to give it to newcomer Jessie Brown; a Halifax native who may have the most powerful voice in Atlantic Canada.
On her debut "Keeping Appearances", her impeccable range is on display from the first note she belts out. Mixing RNB, soul and powerful anthemic rock, every track is acid washed in psychedelic overtones that create and incredible, emotional experience for anyone who listens. It is impossible to not be captivated by the amount of pure, raw moments captured on this album.
Loud Recording of the Year
The loud category provides us with a slew of interesting acts. Starting with the fast and furious Hard Charger and their latest full length "Bad Omens". The blazing fast, bass driven sound we have come to expect gets even louder in this latest installment. It is laced with gravelly vocals and sonic guitar solos all performed at a breakneck pace. A strong showing once again from one of our metal scenes cornerstone bands.
Sleepshaker gets a nod with their album "Things Are Different Now", which is certainly a testament to where their music stands. While the raw passionate screams still withstand, this band has sided more with the melancholy atmosphere of their sound. The pop-punk enthusiasm still hits hard with abrasive sections that provide the same energy they are know for, the only difference is that it is more controlled and focused.
Spirit of the Wildfire has been a pleasant surprise this year with their album "Paridisolation". You can not contain the groove and energy this band brings to one genre. The band goes from one extreme to the other and back again. From upbeat, bouncy pop-punk to distorted, chaotic breaks you never know what to expect as you listen through the tracks. Variety is this bands strength and their fresh mixture had to be a big factor in their nomination.
Tactus is this year's representative of the progressive metal-core palate with their album "Bending Light". Layers of djent heavy riffs come together with jazzy melodies and a vocal range that goes from gritty to soothing in an instant. The songs on this release also vary from groove heavy to extended compositions that really show off the bands musical chops.
I must go with Zaum for this year's winner. Their album "Eidolon" has taken on the most unique form of anybody nominated for any category this years. The two-part doom composition came to life with a special live experience that perfectly captured the orchestral nature of its structure. Did I mention this band is a two piece? If not, it still shouldn't be necessary to help you understand the art within this composition.
Rising Star Recording of the Year
This years up and comers features the likes of the previously mentioned KINLEY and her album "Letters Never Sent". The Barrowdowns bring distinct group harmonies on their alternative folk album "Come What May Come" and Mamas Broke is nominated for their thought invoking lyrics and banjo plucking roots stylings on their album "Count The Wicked". Owen Meaty's Batting Stance get the nod for their self-titled album full of traditional folk instrumentation to light-hearted pop songs.
Shreem takes this category for me for his album "Celtic Remixing". This record is an innovative collision of worlds mixing produced beats with samples of classic Celtic instruments. The unorthodox mixing does not demean either side of the experimentation and creates an enticing new sound. Innovation makes the star shine brighter.
Solo Recording of the Year
This category's talent speaks for itself as most of its nominees have already been mentioned. The exception being David Myles, who's dulcet stylings continue to put him higher in the conversation of one of the regions greatest songwriters. He is joined by Amelia Curran, Jenn Grant, Rose Cousins, KINLEY and my pick for this section, Mo Kenney.
Kenney's record "The Details" brings the most refined and deepest sound of all the nominees. It is an album that transcends far beyond the genre of rock and is pleasant for the ears of almost any listener. It is the fullest sound of any solo effort this year.
Group Recording of the Year
Previously mentioned Les Paiens, Cassie and Maggie and The East Pointers lead off this category. They are joined by Ouroboros who put their energetic saxophone, snappy drums and foot tapping rhythms on display on their release "Kitchuses".
Tomato Tomato continue to grow their popularity with simple musical stylings and wholesome narratives on their album "I Go Where You Go".
The band Walrus follows with dreamy pop vocals and sonic guitars on their album "Family Hangover", an album that defines the term alternative on the east coast.
City Natives stand out in this category with their album "Dream Catchers". The trio harmonizes beautiful on every chorus while still delivering a smooth flow when one of them takes the leads. Their numbers build their sound while still sounding like one cohesive unit. One of the tightest groups on the east coast bar none.
Video of the Year
With great music comes great cinematography, and this year is no different. East coast icon Heather Rankin begins our list for best music videos with her song "Titanically", who's video features some marvelous shot taken under water. It also depicts the far ends of the lifestyle spectrum, showing the singer songwriter dressed eloquently in an upper-class home as well as covered head to toe in mud.
Kevin Davison pays tribute to the bravery and struggles of first responders in his video for the track "When Those Sirens are Gone".
Ria Mae brings plenty of colour and interpretive dancing for her video for the track "Bend". She is accompanied by back up dancers with boxes for heads to represent the concept of stepping outside the box.
Rose Cousins is also nominated for her video for "White Flag", which displays her in black and white laying down while nature shots are layered over top of her.
Long time Halifax rapper Wordburglar takes the title for best visuals with his video for the track "Channel Halifax". Throughout he gives a tour of Nova Scotia's capital city from the most iconic landmarks to the nooks and cranny's he grew up in. Halifax Tourism couldn't paint a clearer picture of the city.
Song of the Year
Not many surprises in this category. Jenn Grant's strong piano grooves and melancholy vocals on her song "Galaxies" and Rose Cousin's piano ballad "Grace" add on to each artist's extensive nomination list.
KINELY  is also in the mix with a song called "Microphone" which takes a strong stance on the issue of sexual assault while addressing her own experiences on the matter. Gabrielle Papillion also grabs a nomination for her stoic pop anthem "Keep The Fire".
Taking this nomination is a tune that I'm sure is still in the heads of all music fans on the east coast. Port Cities have been blowing up with their debut self-titled album and that is much in part to the success of their song "Back To The Bottom". A now well-established anthem on the east coast about struggling to keep your head above water, the tune has a great hook, catchy lyrics and a chorus that will be remembered for years to come.
Album of the Year
Finally, is the honour of Album of the Year. Each of Joel Plaskett, Rose Cousins, Jenn Grant, Amelia Curran and Ria Mae have all been mentioned multiple times on this list so again there are no surprises that their albums are among this years best.
However, I believe Ria Mae takes this year's honours. Her self-titled album is soulful, expressive and passionate, with a feel you can dance to. Her voice is becoming more and more signature with each release and Luke Boyd aka Classified has really outdone himself with the production on this record. Mae is a light that shines brighter on the east coast each year and that will continue by taking home the award for best record.