We're back! Hopefully for good this time!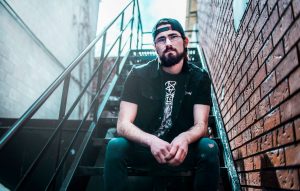 Photo credit: Ryan Stacey (@staceytakespictures)
My good buddy Tyson Davidson for this weeks episode to talk about how not to be a douche when making music videos, hosting touring bands and the grind involved with building up a music scene!
Tonight! I clean out some old interviews that either didn't get the right spotlight when they were originally aired or that I have never aired at all! Who are the interviews with?, you'll have to tune in to find out!
10-11:30pm on 97.9 FM or right here on our website through our pop-up player!
Also, don't forget about our upcoming Fundrive from November 12th-18th (more details coming soon) and don't forget to cast a vote for General Distortion in the fan vote for CHSR's Annual Barry Awards! We're up for best spoken word show and best host (Put Johnny James & Sean Carroll on your vote)! Link down below! You have until November 24th to vote!
http://chsrfm.ca/blog/current-shows/music/chsr-barry-awards-fan-vote-2017
Thanks for listening!
Johnny

Podcast: Play in new window | Download
Subscribe: Google Podcasts | RSS | More