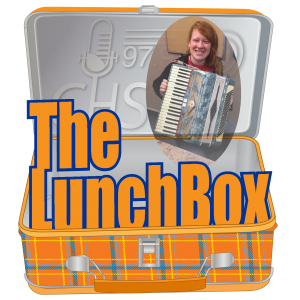 There's something to be said for live music, for experiencing an artist who's playing right in front of you, for you.
Today, I had the good fortune to have a front-row studio seat to a delightful performer with a pearled accordion, a young woman from BC who goes by the stage name of Shelder The Electric Clamfish. (Facebook)(Bandcamp)
She's just as eclectic as her name, bringing forth a great French folk tale in musical form, and traveling with not one, but several instruments — only one of which resembles the travelling musician's standard guitar (a ukelele).
She joined me to talk about living the touring life, having fun on stage, and seeing all the biggest things across the country — as well as perform one of her songs based on a classic French Canadian legends, La Chasse-Galerie.

Podcast: Play in new window | Download
Subscribe: Google Podcasts | RSS | More