Hello again. Welcome to Episode 13 of Testing For Echo on CHSR 97.9 in Fredericton and around the world. I'm your host Tim Scammell.
You're going to love this episode. I know it.
Just press that little arrow down the page to listen/download the podcast.
One thing I noticed when I reviewed the song list is that there seems to be more Canadian content than other episodes.
It wasn't a conscious thing, it just worked out that way.
Another item of note is that I'm doing something a bit different and playing TWO songs from the same band in one episode.
They're from NOT NOW's newest album "Black Holes & Rituals".
These guys are from here in New Brunswick and I love all of their stuff and I'm confident that you'll like it too.
And full disclosure. Yes, my son Braydon is the drummer.  🙂
I'd also like to post this link for ALL of the past episodes for a couple of people who have asked.  https://chsrfm.ca/blog/cat/current-shows/music/testingforecho
Take good care,
Tim
Episode Song List
Sending Out a Warning – Alex Lifeson (Victor)
Not Now – Half Heart
Haken – Nil by Mouth
Inside The Sound – No Exit
Pink Floyd – Fearless
Rush – Vital Signs
Plini – Pan
Steve Hackett – Every Day
Saga – How Long
Not Now – Out of Control
FM – Dream Girl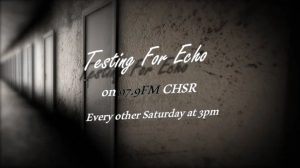 Podcast: Play in new window | Download
Subscribe: Google Podcasts | RSS | More