Hello all. Welcome to Episode 15 of Testing For Echo on CHSR 97.9 in Fredericton and around the world. I'm your host Tim Scammell.
I'm pretty happy with this episode and I hope that you are as well.
We've managed to cover many styles and tastes in a very cool episode.
I ask you, where else are you able to love some Tool, Green Jelly AND Mike Oldfield, Genesis, King Crimson and RUSH?
Right here, that's where.
So sit right back and put on your groovin' shoes and enjoy…
Press that little arrow down the page to listen/download the podcast.
I'd also like to post this link for ALL of the past episodes for a couple of people who have asked.  https://chsrfm.ca/blog/cat/current-shows/music/testingforecho
Take good care,
Tim
Episode Song List
Gary Numan – I Am Dust
Genesis – In That Quiet Earth
Polyphia – Chimera
Jimmy Page and Robert Plant – Four Sticks
RUSH – Circumstances
Green Jelly – Anarchy In The UK
Yes – Leave It
Tool – The Patient
King Crimson – The Howler
Mike Oldfield – Mount Teidi
Saga – Take A Chance
First Aid – Waiting
Nebula – Trying To Meet You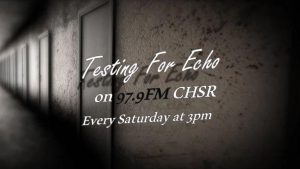 Podcast: Play in new window | Download
Subscribe: Google Podcasts | RSS | More