Hi there folks. I trust you are well.
Welcome to Episode 18 of Testing For Echo on CHSR 97.9 in Fredericton and around the world. I'm your host Tim Scammell.
Do you ever have those days where you look at something you've made and are pretty darn happy with it?
That's the way I feel about today's song list. It's all over the place.
There are plenty of old friends and some new ones. With so much to choose from it's easy to make a perfect Song List.
Just press that little arrow down the page to listen/download the podcast. 
Take good care and enjoy!
Tim
"The World of Music, One Song at a Time"
Episode Song List
King Crimson – Sleepless
Envy of None – Dog's Life
Marcello Ciurleo – Live For Today
Saga – Cat Walk (Live)
RUSH – Time and Motion
Nine Inch Nails – The Hand That Feeds
Robert Plant – Bones of Saints
Marillion  – Sugar Mice
Dream Theatre – Pull Me Under
Yes – Going For The One
Genesis – Los Endos
Liquid Tension Experiment – Osmosis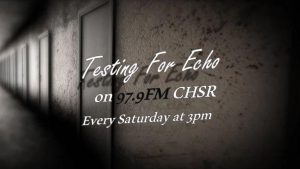 Podcast: Play in new window | Download
Subscribe: Google Podcasts | RSS | More