Hello again everyone.
Welcome to Episode 23 of Testing For Echo on CHSR 97.9 in Fredericton and around the world. I'm your host Tim Scammell.
Here's something cool that I realized the other day.
This is episode number 24. Each episode is an hour long, except for the first one which ran a little over time but we'll ignore that.
That's 24 hours of Testing For Echo awesome.
So, if you start playing episodes from the beginning you can fill your entire day with great Testing For Echo and then start again the next day!
What do you think?
Now, just press that little arrow down the left of the page to listen/download the podcast. 
Take good care and enjoy!
Tim
"The World of Music, One Song at a Time"
Episode Song List
Styx – Pieces of Eight (Live)
Peter Gabriel – Come Talk to Me
SAGA – Gonna Give it to Ya
Envy of None – Kabul Blues
Brian Eno – The Big Ship
Pink Floyd – Speak to Me/Breathe
RUSH – Carnies
Animals as Leaders – Ectogenesis
Lifesigns – Last One Home
Genesis – A Trick of The Tail
Focus – Sylvia
Half Past Four – Toronto Tontos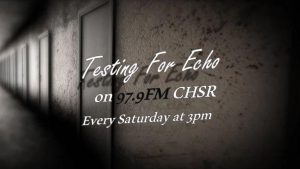 Podcast: Play in new window | Download
Subscribe: Google Podcasts | RSS | More