Hi again everyone.
Welcome to Episode 26 of Testing For Echo on CHSR 97.9 in Fredericton and around the world. I'm your host Tim Scammell.
As always, we've worked pretty hard to compile a great list of tunes that you'll love.
It's the usual mix of hard and soft, but a little harder than some.
Have a listen!
Now, just press that little arrow down the left of the page to listen/download the podcast. 
Take good care and enjoy!
Tim
"The World of Music, One Song at a Time"
Episode Song List
Anderson, Bruford, Wakeman and Howe – Themes
Triumph – Just One Night – Live
Gojira – Born For One Thing
Peter Gabriel – Digging in the Dirt – Live
Periphery – Marigold
Tanna Joy – On the Other Side
RUSH – Force Ten
Kim Mitchell – Kids In Action
Kansas – Miracles Out of Nowhere
FM – Dream Girl
Elyaz – Wildlands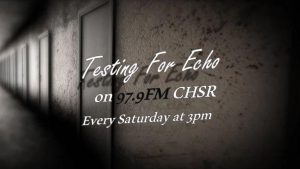 Podcast: Play in new window | Download
Subscribe: Google Podcasts | RSS | More