Hi again everyone.
Welcome to Episode 27 of Testing For Echo on CHSR 97.9 in Fredericton and around the world. I'm your host Tim Scammell.
For some reason this episode has a more British feel than others. I could be off base but I just had that vibe as I was recording it.
Maybe it's a combination of the Steve Hackett, Deep Purple, Robert Plant, and Jon Anderson.
No worries though. There's still plenty of Canadianity in here.
Just press that little arrow down the left of the page to listen/download the podcast. 
Take good care and enjoy!
Tim
"The World of Music, One Song at a Time"
Episode Song List
Steve Hackett – Ace of Wands
King Crimson – Dig Me
Not Now – Hear Me Now
Envy of None – Liar
SAGA – You're Not Alone
Gary Numan – Melt
Peter Gabriel – The Rhythm of the Heat
RUSH – Mystic Rhythms
Robert Plant – Dance on my Own
Deep Purple – Black Night
Jon Anderson – Rain Down
Marcello Ciurleo – Hello It's Me Again
Prism – Good to Be Back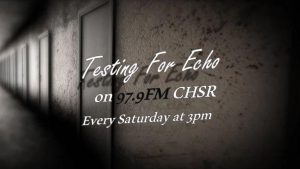 Podcast: Play in new window | Download
Subscribe: Google Podcasts | RSS | More