Hello again everyone.
Welcome to Episode 28 of Testing For Echo on CHSR 97.9 in Fredericton and around the world. I'm your host Tim Scammell.
You may recall that the previous show had a British feel to me.
Well this one is pretty Canadian. More than usual. Hint – Two RUSH songs and one solo Geddy song.
And that's a great thing.
So, just press that little arrow down the left of the page to listen/download the podcast. 
So enjoy it eh?
Tim
"The World of Music, One Song at a Time"
Episode Song List
Geddy Lee – Runaway Train
Saga – Why Not
RUSH – Halo Effect
Genesis – Carpet Crawlers Live
Yes – Cut From The Stars
A Perfect Circle – Judith
Frank Zappa – Disco Boy
MELO – Paralyzed
RUSH – BU2B
Gentle Giant – Aspirations
UNITOPIA – This Life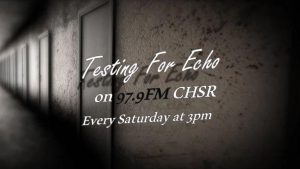 Podcast: Play in new window | Download
Subscribe: Google Podcasts | RSS | More