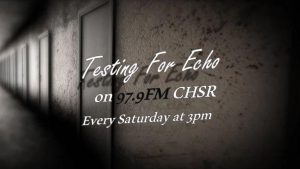 Hello again folks. It's great that you've joined us. This is Episode 36 of Testing For Echo on CHSR FM 97.9 in Fredericton and around the world. I'm your host Tim Scammell.
To start off you'll recall a few episodes ago that my son Braydon and I did a goofy little clip of a fictional little show called Hillbilly Hoedown.
Well, even though Braydon now lives out of town, nothing can stop us from reuniting our stars for Hillbilly Hoedown 2!
We also have a ton of great music for you, as always. I'm always really happy with how diverse we are here.
Don't forget, if you ever have a request please send it along. I will absolutely get it on.
Enjoy!
Take good care,
Tim
"The World of Music, One Song at a Time"
Episode Song List
Wally Wiggins and Guest – Hillbilly Hoedown 2
Andy Curran – No Tattoos
Steve Hackett – The Show
Pink Floyd – The Final Cut
Haken – The Last Lullaby
RUSH – New World Man (LIVE)
Lifesigns – Telephone
Gary Numan – Ghost Nation
YES – Circles Of Time
Kansas – How My Soul Cries Out For You
Marcello Ciurleo – Life Gets in the Way
SAGA – Wind Him Up (LIVE)

Podcast: Play in new window | Download
Subscribe: Google Podcasts | RSS | More