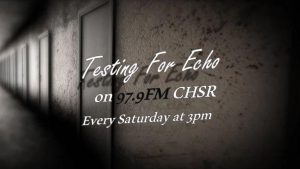 Hello again folks. Thank you for being here.
This is Episode 37 of Testing For Echo on CHSR FM 97.9 in Fredericton and around the world. I'm your host Tim Scammell.
We have a lot of great music for you here. Some that you may have never heard before but will want to hear again.
I apologize for the listeners who have relied on my show links on Facebook. Hopefully it will go back to normal sometime.
In the meantime, I will continue adding the show link on Twitter.
Now, please head on down to the little arrow to download/listen to the show. 
Take good care,
Tim
"The World of Music, One Song at a Time"
Episode Song List
The Penguin Cafe Orchestra – Talk Radio Ending Theme, 1988 Telephone and Rubber Band
Dinosaur Pile-Up – Grim Valentine
SAGA – The Runaway
Jason Anderson – Together, Apart
Triumph – Troublemaker
Greg Lake – Watching Over You
Steve Hackett – Clocks
Lifesigns – Telephone, Radio
RUSH – Middletown Dreams
Peter Gabriel – Heroes Live in Verona 2010
King Crimson – Heroes Live in Berlin 2016
Universal Honey – Is This The Real Thing

Podcast: Play in new window | Download
Subscribe: Google Podcasts | RSS | More