There's something that I'd like to confess to whoever reads this. It's about the Progressive Rock music I play for the show.
I don't love all of it.
Really. I do love most of it though.
However, even if it's something that I wouldn't play when I'm resting or driving in my car I do know when to respect the musicianship and the artists who play it.
I'm not going to tell you what I like or don't love but I will continue to hunt down and play the best and most interesting Progressive Rock that I can find.
I will give you a hint though. I LOVE all things RUSH.
But you already knew that. Lol.
Oh, by the way. The show has a slick new Facebook page in case you didn't know. It's at https://www.facebook.com/TestingForEchoCHSR/ .
I would like to thank my in-house art department for the new logo and Facebook page and artwork. Great job.
Please feel free to contact me at TestingForEchoCHSR [at] gmail [dot] com with any thoughts, opinions, requests etc. 
Episode Song List
King Crimson – Indiscipline
Emerson, Lake and Palmer – From the Beginning
RUSH – Best Live Intro Ever From R30
Dillinger – Robot Race
Genesis – After the Ordeal
Triumph – Magic Power Live
Robert Connolly – A Close Encounter
Frank Zappa – Cosmik Debris Live
Jethro Tull – Locomotive Breath Live
Take good care,
Tim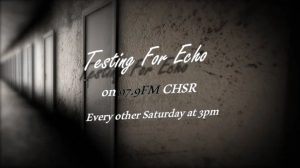 Podcast: Play in new window | Download
Subscribe: Google Podcasts | RSS | More