This episode is one of my favourites to date. It just feels different.
You'll see what I mean.
A couple of days ago I was listening to Episode 3 and came to a realization.
When I've been recording these shows I've had papers and notes all over the place and I was practically reading a script. And it sounded like it. I've been sounding somewhat mechanical and I don't mind saying so.
So what I decided to do was go freestyle this time.
I guess I get a little rambly but what the heck. I think it went okay.
What do you think? There are a couple of spots where I throw in my opinion. Maybe I'm completely off base? You tell me.
Now, one of the very cool things about Progressive Rock is the HUGE variety of artists and music within the category.
In this episode there are 4 rather abstract songs from Canadian artists from a few decades ago. Some you may have heard of, or maybe not.
However, in the same category in this same episode I have legends Peter Gabriel, Alan Parsons, Styx, and Bill Bruford!
All Progressive Rock artists with assorted levels of fame and MANY different sounds.
That is so cool to me.
I had posted about this show in one of my Prog Rock Facebook groups the other day and was introduced to a very nice chap from the UK named John Young.
John has been in the Prog game for a while and his band Lifesigns has a new album called Altitude. John was kind enough to send the album to me and I have added the song Last One Home to the show. I really enjoy it and know you will too.
Anyway, I hope that you're enjoying the shows so far.
Don't forget that the show has a slick new Facebook page at https://www.facebook.com/TestingForEchoCHSR/ .
I would like to thank my in-house art department for the great show logo and Facebook page and artwork. Great job.
Please feel free to contact me at TestingForEchoCHSR [at] gmail [dot] com with any thoughts, opinions, requests etc. 
Episode Song List
Alan Parsons Project – I Robot
Another Roadside Attraction – The Maze
Bill Bruford – Hell's Bells
Peter Gabriel – Biko (2021)
Miriodor – Checkmate
Styx – A Song For Suzanne
Saga – Humble Stance
Gideon – The Mechanic
Lifesigns – Last One Home
Stay Well,
Tim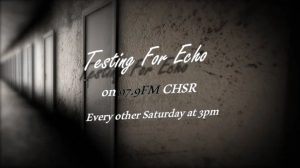 Podcast: Play in new window | Download
Subscribe: Google Podcasts | RSS | More