Hello again friends. I hope that you are well.
I really liked doing this episode. I think I'm starting to get the hang of this.
I don't think I mentioned this before but this radio thing is completely new to me. There is quite a lot to learn. I admire the folks who do this every single day.
For now I'm going to keep this bi-weekly. One day perhaps I will do it live but not yet.
Onward and upward!
I know that I've already mentioned this but I'd love for you to join us at https://www.facebook.com/TestingForEchoCHSR/ . I'd really like to thank the 200+ people who have liked and follow us so far.
Also, please feel free to contact me at TestingForEchoCHSR [at] gmail [dot] com any time.
Episode Song List
Mike Oldfield – Flowers of the Forest
Lifesigns – Gregarious
Animals as Leaders – Physical Education
Prism – See Forever Eyes
Karcius – Supernova
Rush – Mystic Rhythms
Yes – Starship Trooper Live
Nightwinds – Sad But True
FM – Slaughter In Robot Village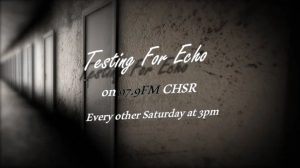 Podcast: Play in new window | Download
Subscribe: Google Podcasts | RSS | More