This is a perfect example of not judging things by a name.
Initially when I hear a band name like Spooky Tooth or Mahogany Frog I'm thinking "Really??"
But guess what? In this episode you're going to hear that these cats with the bizarre names are really pretty good!
I'm also very happy to share a tune by my friend Kevin Mak Watson that I think you'll like.
I'm also playing another great tune by my pal John Young and his band Lifesigns.
There is a bit of a heavy start to this show, but it's something that everyone should have in their minds. The number 1.833.456.4566 is for Talk Suicide Canada. If you or anyone you know needs help, call them, or contact me!
No RUSH today though I'm afraid. I had too many other things to squeeze in.
I'm not sure what made me think of adding Spinal Tap to this episode but it's a great way to finish.
Don't forget that the show has a Facebook page at https://www.facebook.com/TestingForEchoCHSR/ .
Please feel free to contact me at TestingForEchoCHSR [at] gmail [dot] com with any thoughts, opinions, requests etc. 
I'd love to find out what people are thinking of this show. Contact me. Please.
Episode Song List
The Nice featuring Keith Emerson – Hang On To A Dream
Heliophant – Spell
Kevin Mak Watson – Above
King Crimson – Elephant Talk
Saga – Mouse In A Maze
Lifesigns – Voice In My Head
Spooky Tooth – The Mirror
Mahogany Frog – A Decision Of The Flower
Paice Ashton Lord – Ghost Story
Spinal Tap – The Majesty of Rock
Stay Well,
Tim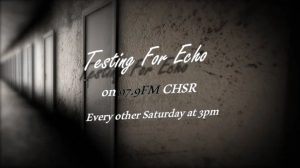 Podcast: Play in new window | Download
Subscribe: Google Podcasts | RSS | More