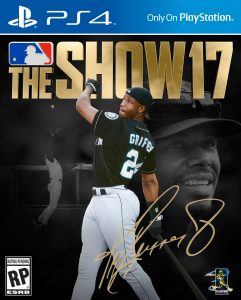 San Diego Studios bring back the lovable MLB The Show Franchise, with some new features that are a nice welcome.
MLB the show 17 is a step up from last year's installment, you instantly take notice of this by creating your character in the Road To The Show mode. You start off by choosing your primary position, throwing hand, and your batting hand. Once that is complete you will then choose which region you want to represent West, Central, East or International; from there you will go through the customization process of your character. The customization in this year's installment is much more depth this year compared to others. Once you are done creating you go right into scouting day and hope you perform well to impress the scouts to go play for a major league team and they're farm teams, and from there you will go through the MLB draft. Another great installment this year is dialogue and the more personal interactions with your coaches from batting all the way to the head coach, this makes me feel like there are good and bad relationships with the coaches depending how you perform on the field. So you take control of your created custom player and make your impact on and off the field in the MLB and win the world series and become a legend and hope to be inducted into the MLB hall of fame.
That is not all that is back, Diamond Dynasty makes it's creating your fantasy team by opening up packs of players spending currencies on players etc , you can also unlock equipment in various modes especially in the road to the show, but in diamond dynasty it's all about building your fantasy team and proving your the best.
Ball physics plays another major role in this year it's no longer linear when the ball is in play it can change direction a little if it hits the slightest bump, hits a foot or even bounces off a glove this is quite a nice edition because it makes it that much more realistic and I love that it feels that way. Another new edition that has been added this year but is very lackluster is Retro Mode if you remember games like Ken Griffey Jr present Major League Baseball that came out in 1994 it's almost exactly like that and it is a mode I did not enjoy at all because of the controls, but if you are new to the baseball this may be a good mode to get you started.
MLB the show 17 is a step up from its predecessors with the all new ball physics, the dialogue in The Road To The Show mode, dynamic difficulty adjusting, and deeper customization this is a must pick up this spring.
MLB the show 17: 9/10
Good Job PlayStation and San Diego Studios