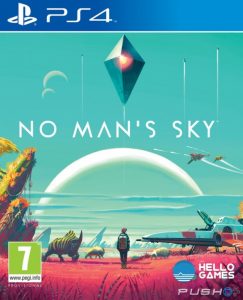 No Man's Sky Review
Gamers of the Round Table
Reviewed by Alex the Kidd.
Have you ever looked up to the night sky and wondered what it would be like to travel through the vast unknown? Developer Hello Games attempts to put players in the role of a universal traveller in their hyped-up hit, No Man's Sky. The question on everyone's mind is whether or not No Man's Sky delivers on the experience promised by its developers. While No Man's Sky allows players to travel through a near limitless universe, some aspects of the game can be less than engaging.
The Good
It is important to remember that Hello Games has delivered on everything they said they would with regards to this game. The hype train created by the gaming community raised the expectations beyond anything the developers said about No Man's Sky. From the beginning, Hello Games has been clear that while there are online features regarding the games universal atlas, this is a single-player game. There are limitless systems to explore in this expansive universe, and making your way throughout the game will require some serious resource management. Resources are stackable in your inventory, but treasures and upgrades are not, and each will take up an inventory space; you must decide what is more important to you, and in many cases the wrong decision can mean your life. Each star system has a space station with a market trader where you can unload you inventory if you want to use the fuel to fly from station to planet for every exploration. The good thing is that asteroids contain fuel for your ships pulse thrusters, along with other valuable resources; even if can find an abundance of fuel on a planet's surface, look among the void to help you. This means that you're never really stranded – your ship's speed and the distance between your location and another planet/objective are calculated realistically, meaning even though you can see a planet in the distance, it could take you four hours or longer without using your pulse thrusters to reach your destination. This can be worrisome until you start blasting asteroids and realize they contain valuable fuel and resources.
Not only can you discover new planet's, animals, locations, and plant life, you can upload and change their name. The best part besides claiming everything you see in your name is that you get paid to upload the information. Scanning everything you can see on the planet's surface can lead to quick cash that can help you upgrade your inventory and multi-tool. You will encounter new aliens and learn about their cultures, beliefs, and shape their attitudes towards you by discovering more about them; the more you learn about an alien race the better your standing becomes. No Man's Sky milestones system sets goals for you regarding everything you do, whether it's flying at warp speed, learning alien languages or just trekking on foot. From the very start of the game you are thrown into an adventure to collect resources to survive long enough to repair your ship. No game has offered the level of universal exploration that No Man's Sky provides.
The Bad
No Man's Sky can become repetitive; exploring new planets, discovering alien languages, and gathering resources eventually feel mundane and more task-like than exciting. While new planets can have different eco-systems and resources, the urge to explore them as much as the first few doesn't last. Landing on every planet you see to claim/re-name them can feel like a chore after a while. It's important to get out and explore new systems to see what else is out there to feel like the game is progressing. Some milestones do not progress as well as others; most units accrued milestone category doesn't count the overall cumulative amount of units you trade/earn. Instead, the milestone increases regarding your current unit amount. This can feel like an unrealistic goal to reach as purchasing inventory upgrades and new multi-tools causes the next upgrade to cost more – the more you upgrade, the more it costs, making it difficult to progress through the game and hold the amount of money that allows for the milestone to increase. Additionally, some glitches can be encountered while playing; the extreme weather milestone no longer counting solar rotations while you're on the planet can be discouraging to players trying to collect all milestones and trophies.
While there are several issues that can occur while playing No Man's Sky, the worst offender is the online connection. During game play the online indicator will be a filled in green circle, but many times for no reason whatsoever it will disconnect and turn red. Imagine discovering a system, your internet is working perfectly and you name and upload planets you have discovered, only to find out that you were not connected to their online server and the uploads didn't count. Then when it turns back on, the planets you have discovered now have different names and were discovered by another player. This was a major gameplay issue, considering that the core function of this game is to not only discover new worlds, but to show that you were the first to do so. The fact that there was constant connectivity issues on their end can make hours of gameplay and discovery feel like wasted time when another person's username is posted on a world you were just on. This game crashes a lot –and that can become frustrating when you're trying to discover a new world, the game crashes, then you have to try again from your previous save point; while there are several save points throughout the game, players shouldn't feel completely reliant on them due in large part to the game crashing.
Overall
No Man's Sky delivers an amazing exploration experience; planet to planet you will discover new and interesting creatures, plant life, resources, and aliens. Exploring the vast unknown while making your way towards the centre of the universe can feel repetitive at times, but it is unlikely that you won't come across something new each time you visit a new solar system. Hello Games needs to work on the online connectivity issues and the amount of times the game crashes; while this is due in large part to the server strain, it takes away from the overall experience when players have to constantly re-start the game, or re-discover locations. There are a few features that need to be updated (upgrading individual ship inventory slots as an example), yet there is something to be said about a game that doesn't spoon-feed its players. No Man's Sky is a game that wants you to go out into the universe and figure out everything on your own, which can feel overwhelming and possibly alienating to others. For anyone who has ever had to figure out problems/obstacles for themselves in other games, or life in general, that feeling of accomplishment in No Man's Sky allows players to know that they are making their way through the universe.
Rating
9/10 – Recognizing that this is the game that was promised, not the one hyped up beyond expectation, No Man's Sky does everything it set out to do, even if you have to figure that out on your own. With a few issues that can largely be fixed with an update, this is a game you have to play to experience; watching live-streams, or your friends playing it only gives you a partial experience, like looking at a friend's photographs from a vacation they took. You can see the fun had, but you didn't experience it for yourself.