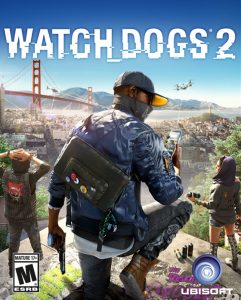 Ubisoft brings us the sequel to the highly anticipated, over hyped, yet underwhelming Watch Dogs. Ubisoft released Watch Dogs 2 on November 15th. Announced back in June a week before E3, Ubisoft showed many videos on what the team did to improve the gameplay and the game mechanics in an attempt to earn the public's trust back when it came to the Watch Dogs brand. Does Watch Dogs 2 become the Microsoft of the tech world, or does it remain a start-up company never becoming big enough to get out of the garage?
Story: Watch Dogs 2 takes place in San Francisco and its surrounding area. You play as Marcus Holloway a hacker originally from Oakland who resides in San Francisco. At the start of the game, you begin by going through a trial in order to join the Deadsec hacker group.  Deadsec's goal is to become the biggest hacker group out there, by exposing the truth about big tech companies as they take the data you enter from your emails, to tracking you in your everyday life. Putting a stop to that will get you followers, but your big target is Blume a company run by a Steve Jobs wannabe "Dušan Nemec", who turns out to be very crooked with having all these companies in his pocket from politics to human trafficking. So its "Dušan Nemec" and Blume you want to take out and give the people their freedom back.
Gameplay:  Watch Dogs 2 is a third person sandbox game. You explore the wonderful and very different area of San Francisco. Players get to experiences how techy San Francisco is in some of the missions, from hacking a camera to exploding a gas tank to kill one of your enemies. You have more gadgets in your arsenal rather than just a phone this time around; a remote RC jumper and a drone are at your disposal. The drone and jumper will help you during infiltration missions when you don't want to be caught and go into combat. You can also sneak into places by taking out your enemies silently with a yo-yo, or go in guns' blazing, which feels out of place in this game. I really feel Marcus should hack his way through everything. As you complete missions you gain followers, allowing for upgrades like vehicle hacking, combat skills, and RC and drone upgrades. This game is not just about the combat, it has some great puzzles to solve which at times can feel pressured because of a timer, but feels great when you accomplish them.
Graphics: The graphics in this game are well mixed; the character models and cars look fantastic, as does the scenery and main building structures. But it's the NPC's and environments that look like they belong on the PS3 and Xbox 360.
Verdict: Watch Dogs 2 is a game that fixes almost all of the problems from the previous installment. It is a fun open world game, with great dynamic characters, great writing, and much better gameplay mechanics; it is definitely worth the pickup.
Watch Dogs 2: 8.5/10
Reviewed by ICE at Gamers of the Round Table.
Good job Ubisoft
To Rent or buy Watchdogs 2 go to gameaccess.ca Canada's number one rental service.