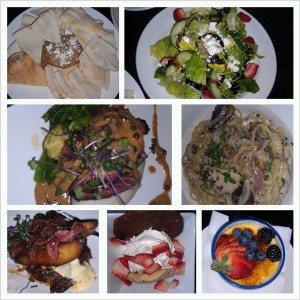 It's time to talk to you about Dine Around Freddy.
Are you prepared to throw away all your money, gain at least ten pounds even with hardcore exercise routines, and sob your way through all the paltry meals you make in comparison?
Okay, maybe that is stretching it a little, but seriously. FOOD GET IN MY BELLY!
For those not aware, Dine Around Freddy is an annual winter event in the capital that is taken pretty seriously, especially by the locals.
[mantra-pullquote align="center" textalign="center" width="90%"]"If you're a real tourist, you understand that tourist attractions are rarely visited by the inhabitants of the city itself."[/mantra-pullquote]
However, with a tight knit city like Fredericton, it manages to be different. All the owners, managers and workers tend to know each other in the city, and the local cuisine manages to get plenty of promotion from anyone and everyone who likes to eat out. (So, everyone, because we're all too lazy to make our own food.)
Dine Around Freddy 2013 is running from March 14th to March 30th, with ten restaurants participating. They (the restaurants) offer three course meals (including appetizer, entree and dessert) at a low price of $29 per person (with $1 being donated to the Canadian Diabetes Association per plate) not including drinks (Hey, I was going to say that!).
The restaurants participating this year are; The Blue Door, Brewbakers, Caribbean Flavas, [catch] URBAN GRILL, Chez Riz, Crepe Suzette, Terrace Dining Room, The Schnitzel Parlour, The Palate and Sam Sneads. (For a full list of menu items, click here.)
Lucky me, I had a chance to go to Brewbakers just last night, and test the waters, so to speak. I brought along a few friends (two other CHSR volunteers) for different taste bud opinions. Luckily that also meant we could share and try more of the food. (Go us!)
For appetizers, they gave us complimentary bread with hummus and butter, The appetizers were Strawberry Goat Cheese Salad, and Caramelized Onion Hummus. The salad had artisan greens in a shallot vinaigrette, with fresh strawberries, goats cheese, cucumbers and a balsamic drizzle, pictured below.
I tried the salad. The strawberries were delicious and perfectly ripe, the greens fresh, the cucumber went well with the ingredients, however I find it was a little plain, and felt like it was missing a flavor or texture.  My table buddy loved it.
The Caramelized Onion Hummus was served with warm pita and a sprinkle of feta, pictured below.
I'd have to say the hummus really blew me away. Normally, I only like hummus when it's spicy, but this was delicious. My table buddy cleaned off the entire plate. I was honestly expecting her to lick the plate clean. I know I would have if the server hadn't shown up so soon.
The clear winner of the Appetizer course was agreed unanimously to be the Caramelized Onion Hummus.
Next up, we had Entrees. I was looking forward to this, as I had ordered their Grilled Hanger Steak blue rare. It was served up with garlic mashed potatoes, seasonal vegetables (I couldn't recognize anything other than a brussel sprout, my table buddy spotted knew more of the veggies) and finished with a peppercorn sauce.
Our server was wonderful in helping to select a wine that perfectly complimented the steak and brought out the great flavors in the meat. I enjoyed the taste experience very much. I messed up ordering this, I'm afraid. I wanted to try new things, but I'm not a big fan of peppercorn sauce, and the steak itself was a little hard on my teeth. I found that there seemed to be a problem with the vegetables, as well. It tasted, to be honest, like someone had accidentally used salt twice, instead of salt AND pepper. (I drained that water glass dry…and then some.)
The next entree was Truffle Chicken Linguini. It was covered with a rich and creamy garlic herb sauce, with sauteed mushrooms and onions with a hint of truffle.
Oh. My. Gosh. It was delicious. There wasn't too much or not enough sauce, the chicken was perfectly done for the dish, the mushrooms practically burst in my mouth from flavor, and the noodles were perfect. I'm drooling just thinking about it.
The clear winner of the Entree course was the Truffle Chicken Linguini.
I should note as well, that the portions, although displayed in gourmet style, were more than adequate, and very filling. At this point, we weren't sure if we could move from the table, but then again, we did have dessert to look forward too…
Speaking of, dessert choices were Citrus Creme Brule or Cookies and Cream.
I've personally never tried Creme Brule so I took a chance, and decided to get one. For those unaware, the way it was explained to me was that it's custard in a dish with coarse sugar on top, with the sugar heated until it reaches hard candy consistency on the top, then paired off with decorations.
It. Was. delicious.
I was so glad I took a chance on it, because it was definitely worth it. Wow. Seriously, go order this, right now.
The second dessert, Cookies and Cream, was nutmeg cream sandwiched between a chocolate chip and a peanut butter cookie.
The clear winner here was the Citrus Creme Brule. As you can see in the picture, the peanut butter cookie was cooked almost to the point of being burnt. The other cookie was pretty dense, but the cream itself was great.
One important thing to note is that they had gluten free and vegetarian safe options as well.
The best part was when the bill came, and I realized I was stuffed but I hadn't broken the bank.
Out of this experience, I'd give Brewbakers a 4.5 out of 5 for the entire experience. Go try it.
And if you do, try this amazing poutine of theirs, available on their regular menu.
My thanks to Tek, for his company, and Nutty, who provided me with pictures of the wonderful meal and funny stories (obviously in an attempt to make me spray wine from my nose when I laugh). If you think her pictures are good, you should go to her site. She is one talented lady.