There's a certain magic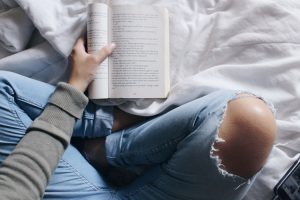 involved when getting lost in a good book. They can take you to a new world and introduce you to new friends, some of whom you'll keep with you for the rest of your life.
CHSR is putting a twist on borrowing books from your friends by hosting a Blind Date With A Book event late this summer. We'll be bringing books wrapped in paper with descriptive keywords, or a couple sentences stating why the previous owner loved the story. Then you'll get to comb through the collection to hopefully pair yourself with a new adventure!
But first, we need your gently used books!
Over the next few weeks you can drop your book donations off to CHSR and we'll prepare them for the event! Event details are coming, but don't worry, we're pairing it with great coffee downtown.
And if you're an enthusiastic book reader perhaps consider joining CHSR's book club, Readful Things, which is resurrecting this fall.